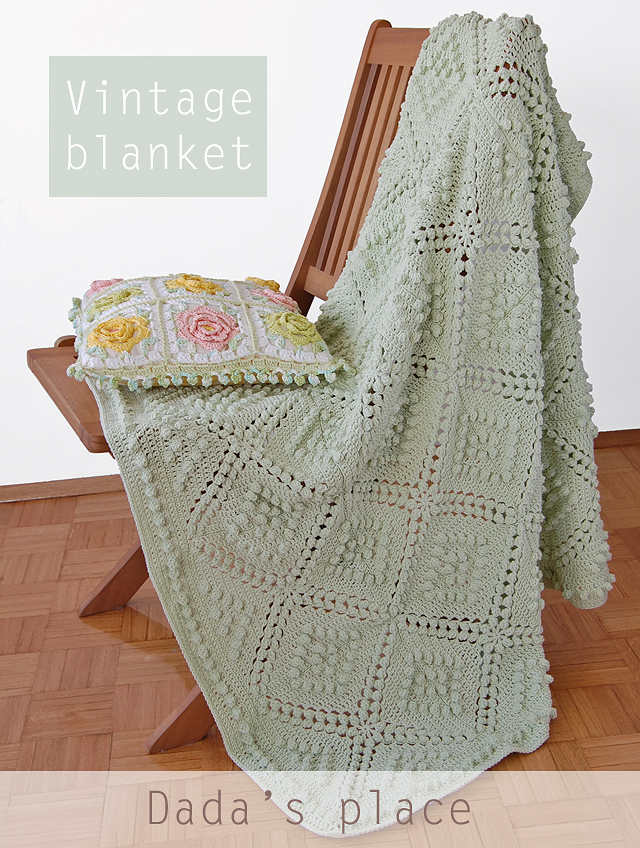 I've been fascinated with vintage crochet blankets,
for a long time
. I've already made one for myself,
the Smitten blanket
using wonderful, free
byHaafner's pattern
, which I absolutely adore and use every single day! So, I played around a little with my crochet hook and some yarn, and came up with this vintage style blanket pattern. I especially love how color and texture get on together.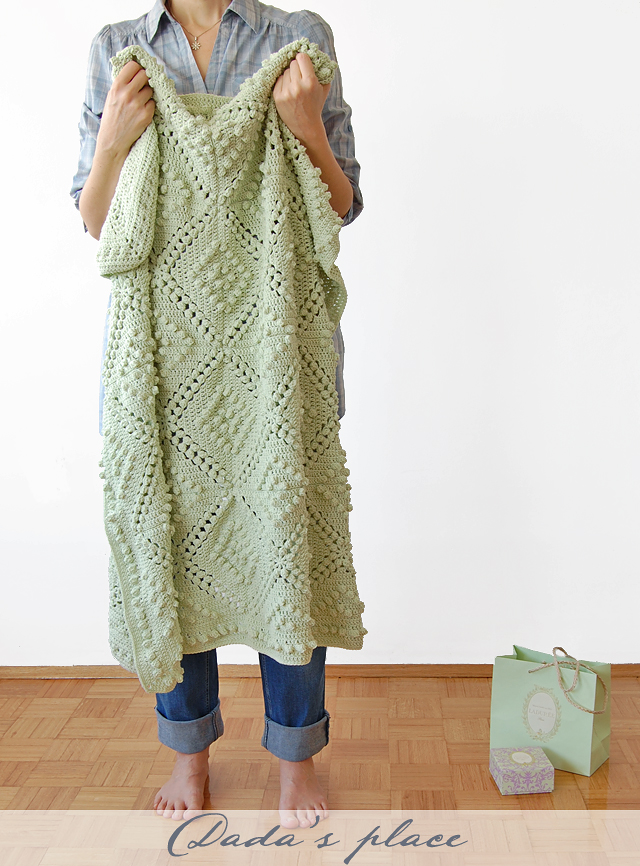 The blanket measures approximately 105 x 105 cm (41″ x  41″), and it's consisted of 16 squares (4 x 4). The squares are quite big, 23 x 23 cm (9″ x 9″). The whole blanket weights 680g.
I added very simple edge – a few rows of dc, and one row of Popcorn stitches (6 dc) in the middle. I thought of adding fringe too, but gave up that idea in the end, which is strange, because, regardless of the fact that I really believe in the term: "Les is more", I almost never stick to this rule. This time I did.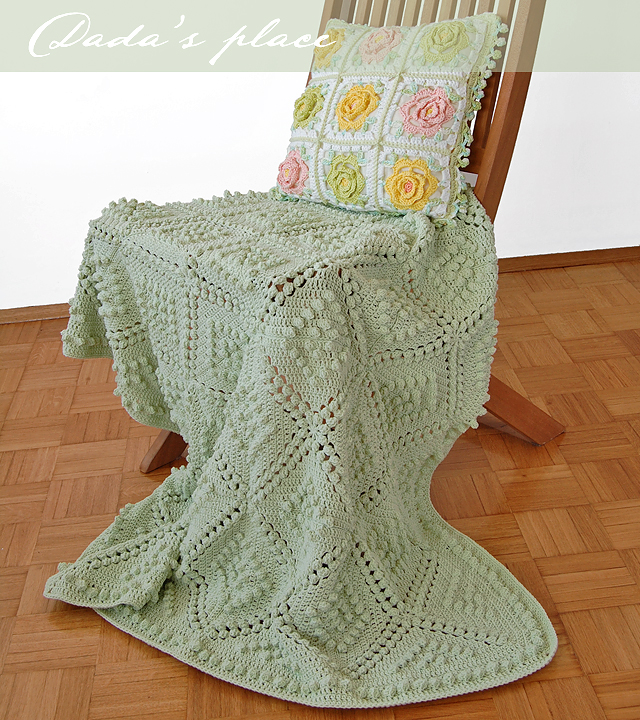 This yarn. I really, really love it, especially this shade of green. It's very bright, soft, mat, powdery shade of green, one of my favorite colors. And it looks like something from fifties or sixties. It has that vintage touch.
The yarn is no. 464
"Cotton Gold"
, from Alize (the Turkish manufacturer) – 55% cotton and 45% acrylic. It's very soft, and I enjoyed working with it. I spent 7 skeins of 100g, and used 4 mm crochet hook.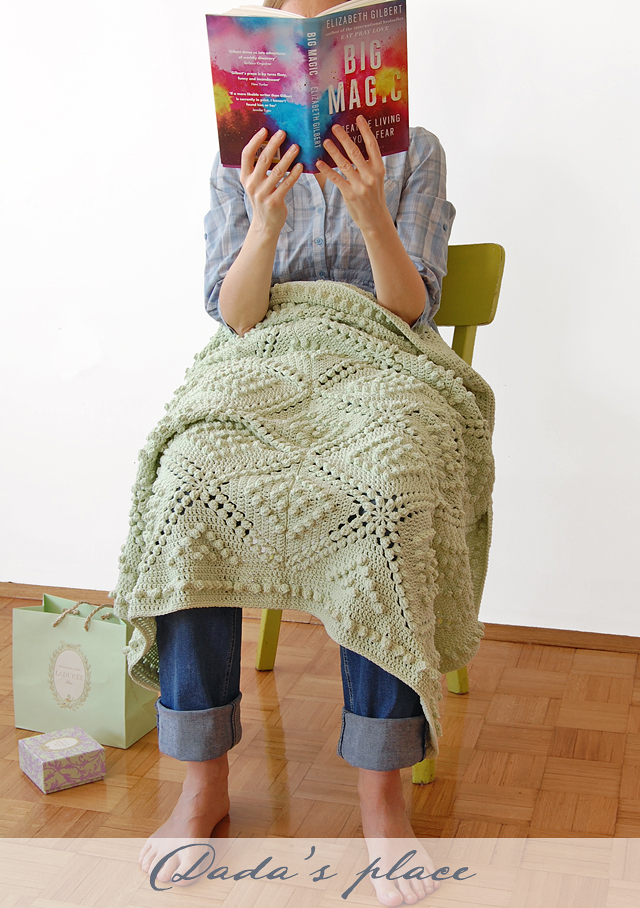 This is me reading Elizabeth Gilbert's "
Big magic
". Actually, just pretending to read, because I had already read the book, before. And I love it very much! I'm a big fan of Elizabet Gilbert and her work. I loved her "Eat, pray, love" (the movie not so much), and I loved her
TED talk about Creative Genius
even more. By the way, it has more than 2.324.000 views on YouTube. That's quite impressive! I'm surprised that so many people are interested in creativity! That's very nice. I've always been interested in creativity and I found her ideas about this topic very authentic and interesting, especially the concept that Ideas are alive. The book is clever,
interesting,
inspiring,
and very
encouraging

, so if you're interested in topic of creativity and would like to live creative life beyond fear, you should definitively check it out. If you've already read the book, please share your impressions in the comments, I would really like to hear your thoughts about this huge book.
I'm so glad that "Big magic" and the vintage blanket I made, are in the same picture!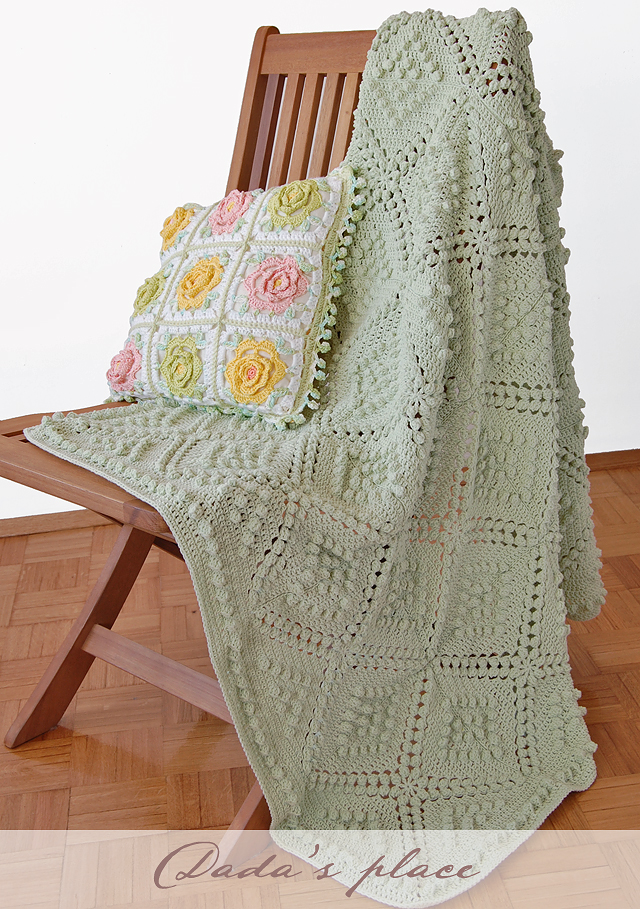 I'm considering making free pattern for this vintage style blanket, so if you like it, and would like me to do so, please let me know in the comments below. Although I've already started on several new projects, if sufficient number of my dear readers
express their wish for the free pattern, I will definitively make it, as soon as I finish all the projects I am currently working on.
*
The
Free Vintage Style Crochet Blanket Pattern
is now available
here
.
*
Now you can buy printable pdf crochet pattern and step-by-step tutorial with lots of pictures for only $3.97!
Click here
to get the pattern. It is available in
English
and
German
.
*