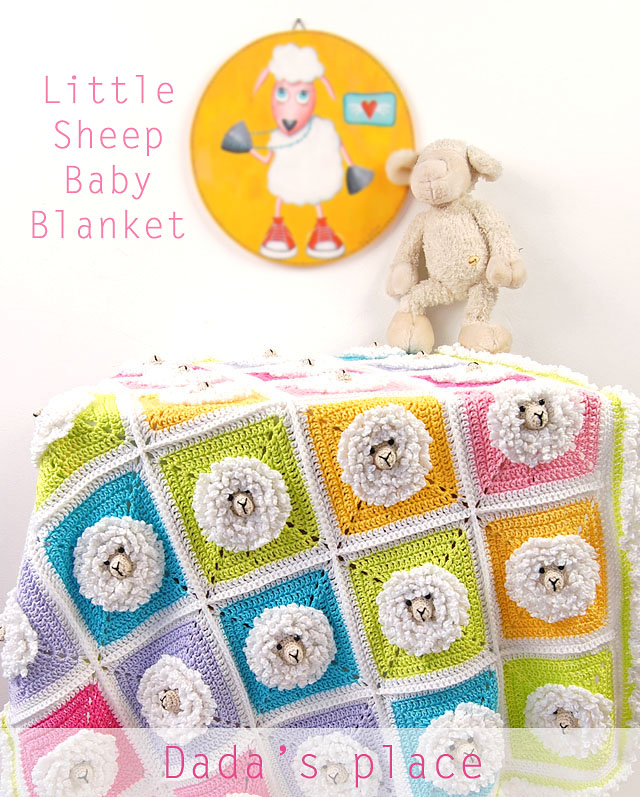 For a long time I had an idea for a cute little sheep granny square in my head, but there was always something, maybe not more urgent, but a project I started, or a project which I kept even longer in my head, so the little sheep granny square had to wait its time. After several flowery pattern I made in the meantime, it was time for little sheep to finally show its cute little face to the world! Let me introduce to you: Little Sheep Baby Blanket! It's the fourth blanket in my animal blanket series which includes:
* Teddy Bear Blanket
* Little Lion Blanket
* Rainbow Lion Blanket
Update: Vintage Style Teddy Bear Blanket is available now! (in English and German)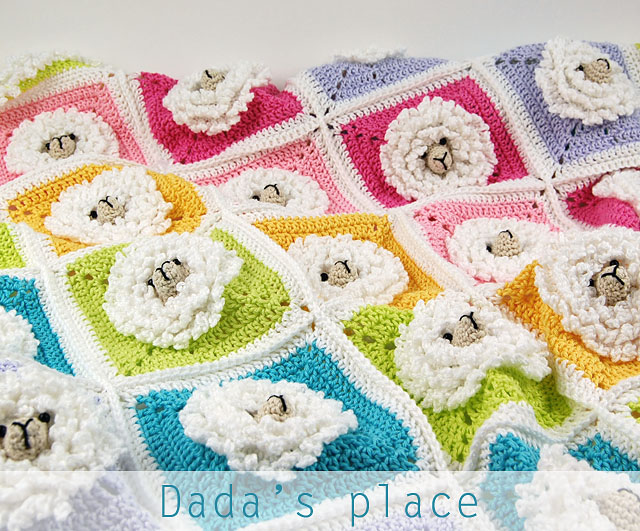 The blanket is approximately 83 cm (32.5″) long and 70 cm (27.5″) wide. It's consisted of 30 squares (6×5), 30 little sheep heads, and I enjoyed immensely making it.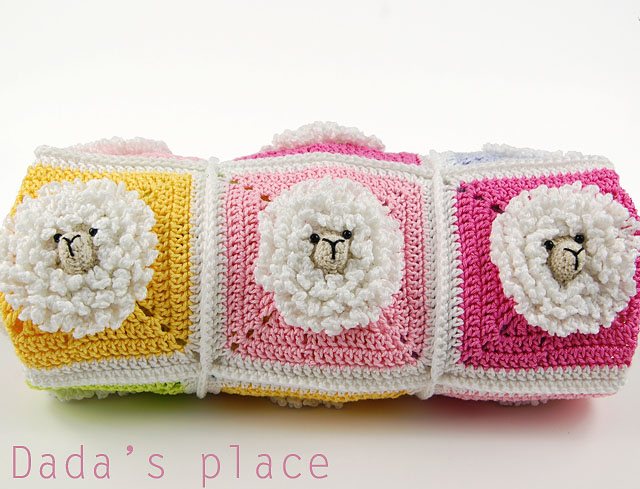 Every time I finished a square I had a feeling that one little sheep has just come alive! There is something special with the grannies which have eyes and a muzzle on it! At least to me, because it's so obvious that I love (very, very much) cute, happy things and creatures.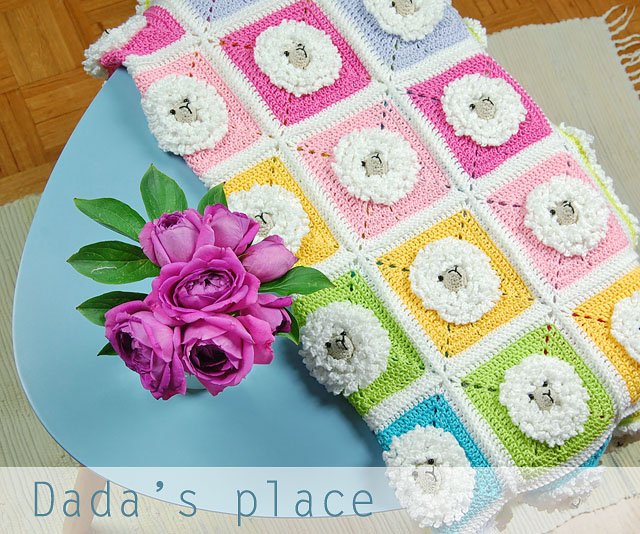 Yarn. I'm very happy and grateful that I have access to such great yarn like "Tango" from St. George (manufacturer from Serbia) which I used for this blanket. "Tango" is 100% cotton yarn 125m/50g, which is (according to Wikipedia) 3 or Light in the USA; DK (Double Knit) or 8 ply in the UK; 8 ply in Australia. I used 3.5 mm crochet hook (USA – size 4/E, UK-9)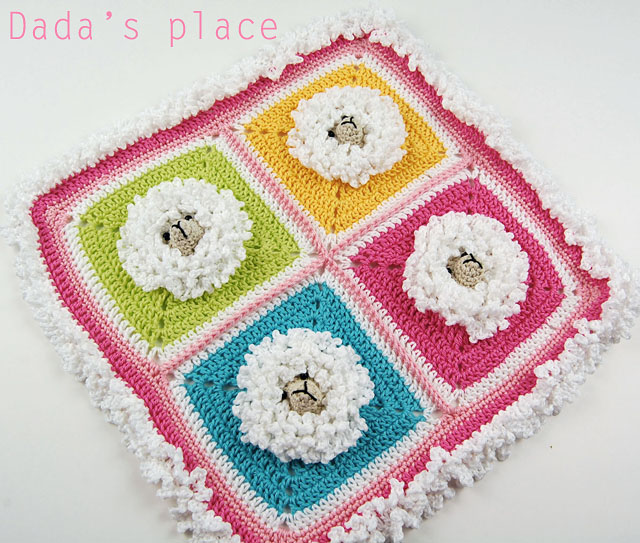 The border is very simple, and when I say "very simple" that means that you don't have to count stitches at all, you just repeat the same stitch along the row… which means that you're free to listen without distraction to your favorite audio book, or to your favorite podcast. I love to listen for example to The Lively Show, a podcast by Jess Lively or to The School of Greatness podcast by Lewis Howes, these 2 are among my favorites, along with unavoidable Hay House Radio (radio for your soul!).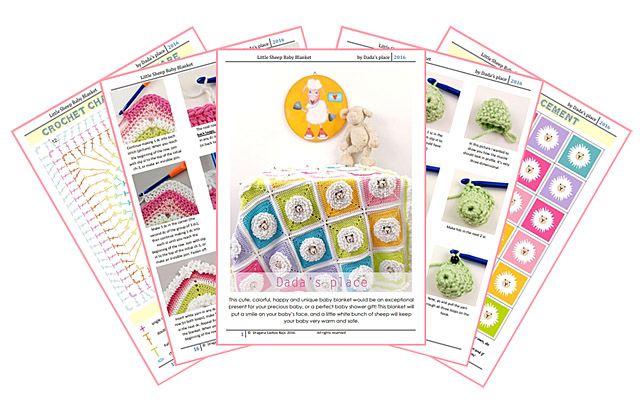 The pattern and step-by-step tutorial for this blanket is written in English, using standard American crochet terms.
It's very detailed and includes:
* List of supplies
* Step by step instruction on how to make Little Sheep granny square and border
* Step-by-step instruction on how to join squares
* Written pattern for Little Sheep granny square and border
* 110 step-by-step photographs
* Crochet charts for Little Sheep square and 2 diagrams
And you can always contact me if you have any difficulties with the pattern, I answer every email from my customers, as soon as I notice it.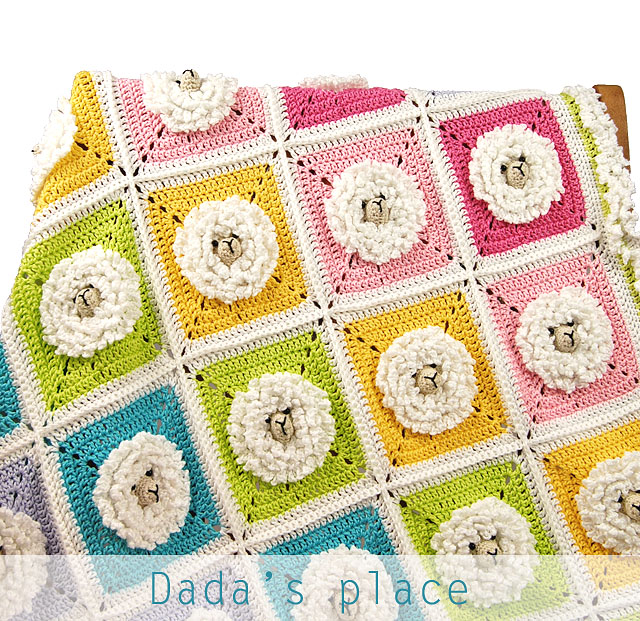 *
So, if you like the idea of a cute little bunch of sheep keeping your baby safe and warm, check out The Little Sheep baby blanket pattern in Dada's place shop (Payment options: credit cards and PayPal).
*
You can also buy it in my Ravelry shop and in my Etsy shop (Payment option: PayPal).
*