This is my second Teddy Bear Blanket Pattern. Vintage style this time. You may be wondering now: "Why did she decide to make another teddy bear blanket pattern?" Initially, I didn't. It just happened. Like it had happened with so many crochet projects of mine before.
The story goes something like this: I wanted to take some new pictures of my old teddy bear blanket, to update my shop, but since I had sold the blanket a long time ago, I decided to make a new one and to take pictures of it later. And I wanted to add a few little changes to the pattern. Nothing big, only one or two small improvements to the existing pattern. But once I began making the square, it started to live a life of its own. It wanted to look like something my grandmother would crochet for her kids back in the time… so, I followed, and the square turned out quite different from the original one. Then I decided not to replace the old pattern with the new one, but to add it to my existing patterns. Because, after all, they are completely different patterns. Even the bears aren't the same. That's the reason why I now have 2 Teddy Bear blanket patterns in my shop.
Let's say a few words about this blanket. The blanket measures approximately 78 x 94 cm (30" x 37") and it is made of 42 Teddy Bear granny squares. The edge is very simple, almost indiscernible, and it merges with the blanket, which is exactly what I wanted to achieve because let's be real, the stars of the blanket are the teddy bears, so I didn't want them to be overshadowed by the edge.
The choice of yarn is very important to me. Not only the quality of the yarn, but also the colors. Especially the colors. Although this blanket isn't particularly colorful, I chose these colors very carefully. I took several important things into consideration. First, I wanted the colors to match and complement each other, secondly, I wanted the colors to have a vintage touch. And I wanted to keep it simple, and to use as few colors as possible. I reduced my color palette to only three colors. I think that's enough. At least in this case. The yarn I used is my beloved 100% cotton yarn "Tango" 125/50m from St. George.
I used 3.5 mm crochet hook (USA – E/4; UK – 9). The pattern is written in English (US and UK crochet terms) and German. I would say that it's suitable for intermediate level of crocheters.
The pattern is very detailed and easy to follow, with more than 120 step-by-step photographs on how to make Teddy bear granny square, how to join the squares together, and how to make the border.
*
So if you like this blanket and you've decided to add an adorable teddy bear's vintage touch to your (or somebody else's dear to you) nursery, the pattern is now available in Dada's place shop, (payment options: Credit cards & PayPal).
*
You can also buy it in my Ravelry shop, and in my Etsy shop. (payment option: PayPal)
*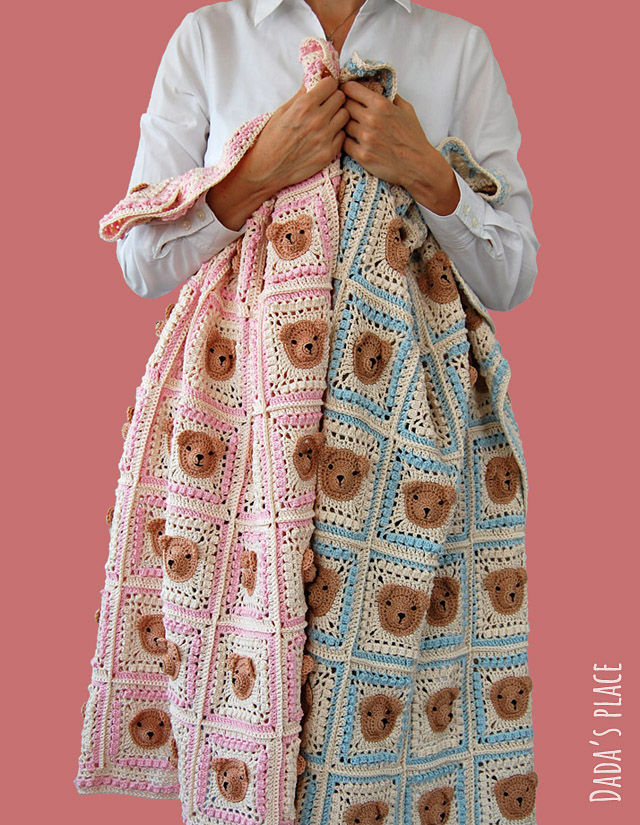 What else can I say? Grab your crochet hook and some yarn and enjoy!
*