Today I'm very happy to introduce the new blanket in my quite a big blanket collection! I'm not sure if it's my fifteenth blanket pattern, but I'm 100% sure that I put a lot of my time, hard work, effort, heart and soul into this pattern. It's my first mosaic crochet pattern which I fell in love with 2-3 months ago when I tried it for the first time. It is a technique which allows you to do colorwork, carrying only one color at a time. You don't have to switch colors all the time. It's very convenient. Also it allows you to draw with your crochet hook, which I really like, because prior to being a crochet designer I had worked as an illustrator and graphic a designer. So, as you can guess, I love drawing and painting and playing with colors…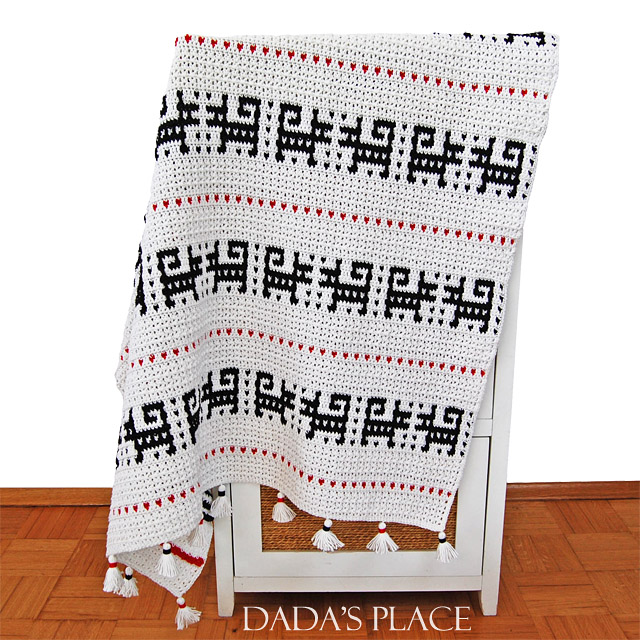 I named the blanket after my Tibetan terrier, Timi. He's adorable, very loyal and funny. I call him my black and white shadow, because he follows me everywhere I go, all day long. If I'm working, he's under my desk. If I'm taking a shower, he guards the bathroom door. If I go outside of the room, he immediately comes after me. Only sometimes (when he's tired or just lazy) he waits several minutes to see if I'm coming back, and if I'm not, he comes to see what I'm doing, and why I'm not coming back. And he does it in such an unobtrusive way. He's not boring or demanding at all. And he's also very handsome and cute! So, it doesn't come as a surprise that I adore him! I also love our morning and afternoon walks. I usually listen to one of my favorite podcasts, while he's doing his stuff like sniffing, peeing on every other tree, bush or blade of grass, thoroughly marking the territory on our walk. As if he wants to say: I've been here.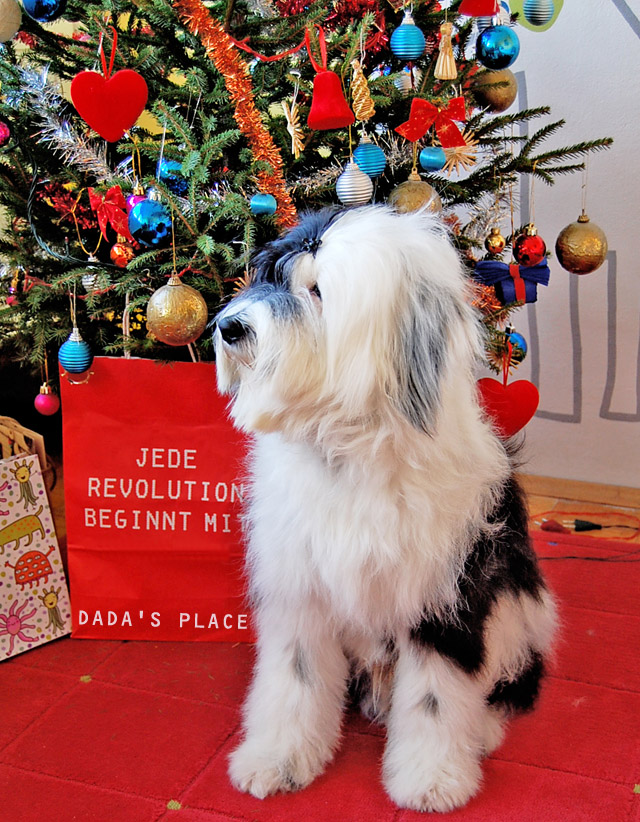 He likes dog treats very, very, very, very much, so a part of this pattern's sales will help me to supply him with his favorite biscuits.
*
And now a word about the blanket. The size: 85 x 115 cm (33" x 45"). It's easily adjustable. You just need to add or subtract (deduct) as many repeats as needed to suit your desirable size.
*
I used 100% cotton yarn Tango from St. George 125m/50g, which is between Sport (Baby) and Light worsted (DK) yarn. Since Tango yarn isn't available online, you can substitute it with Catona yarn from Scheepjeswol, or Catania from Schachenmayr. They're both 100% cotton yarns, the same weight as Tango, and they come in a variety of colors and shades.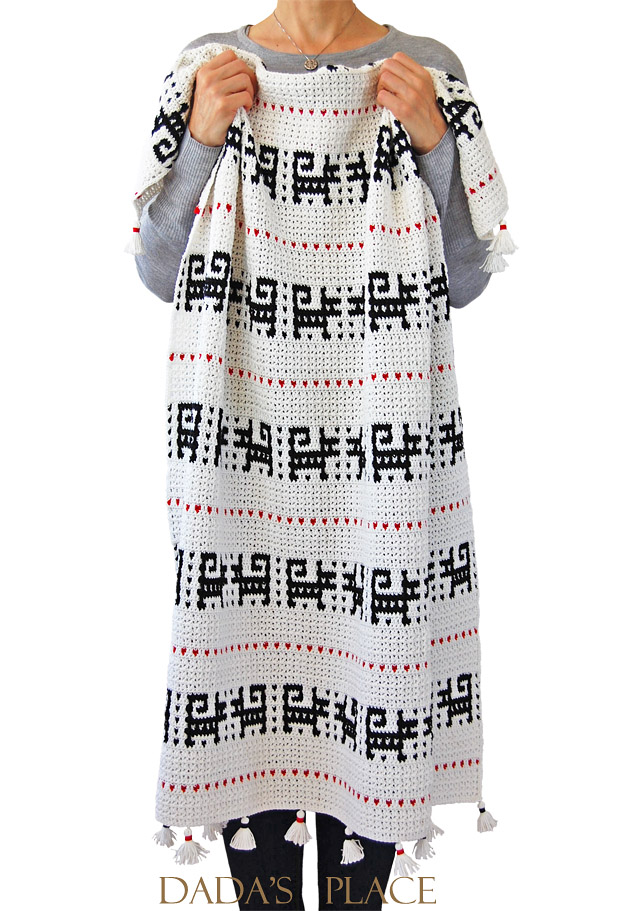 I used two different crochet hook sizes. A 3 mm for stitch pattern and a 3.5 for mosaic panels. It is quite a simple pattern and uses only three basic stitches: simple crochet, double crochet and chain stitch, and a special stitch: mosaic double crochet. That's all. Mosaic double crochet isn't complicated at all and I included a very detailed step-by-step picture tutorial on how to make it. So, you don't have to worry if you've never tried mosaic crochet before.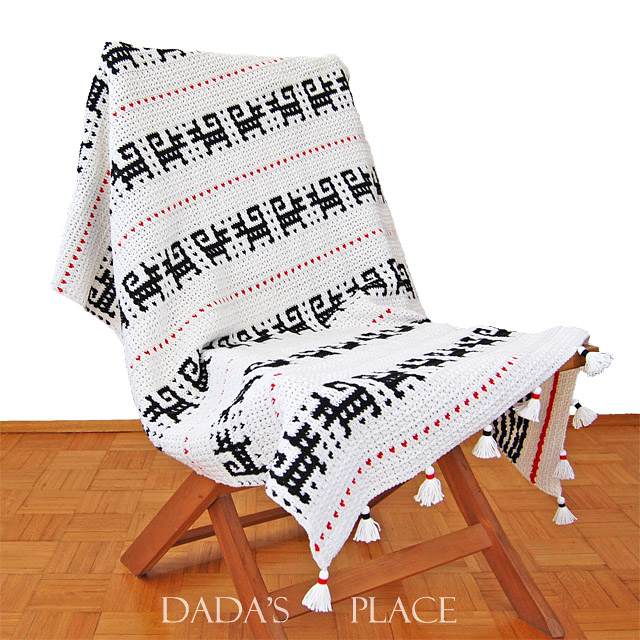 As always, the pattern is very detailed. There is a written pattern, a row-by-row mosaic panel picture tutorial, a step-by-step guide on how to make mosaic double crochet, a step-by-step photo tutorial on how to make the tassels, 5 crochet and mosaic charts, and a very detailed explanation on how to read a mosaic chart. All that packed in 12 page pattern.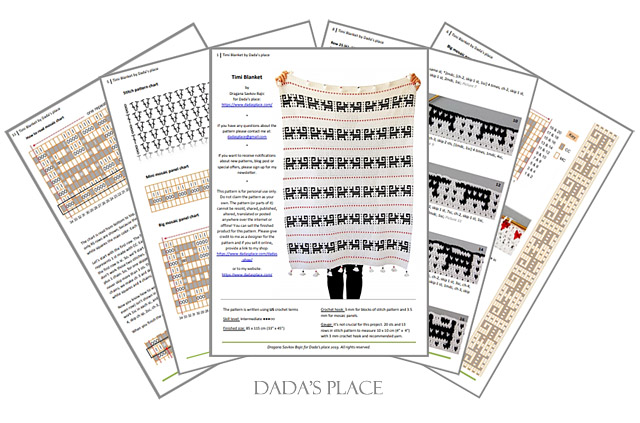 The blanket is very graphic and modern, which I really like, and it can be made in various colors. While choosing the yarn, make sure that you pick the colors that are contrasting enough. Don't chose colors which have the same intensity of color. The best choice is one light and one dark color, whatever the actual colors are.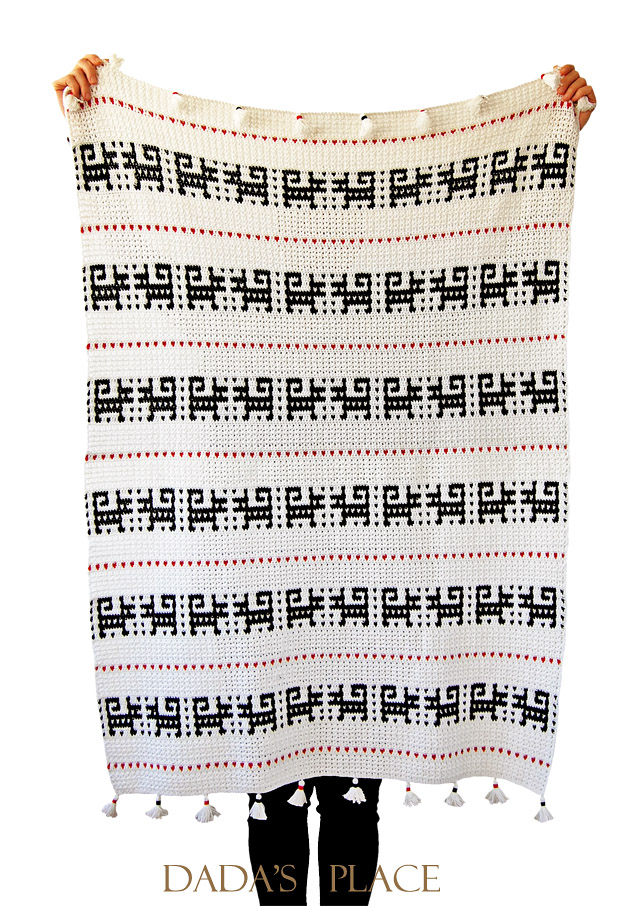 The Timi blanket pattern is now available in Dada's place shop, here, and you can purchase it also in Dada's Ravelry shop and Dada's Etsy shop as well.
*
I'm looking forward to seeing your versions of Timi blanket, so please share your pictures on Facebook and Instagram and don't forget to tag me and to use #timiblanket hash tag.
*