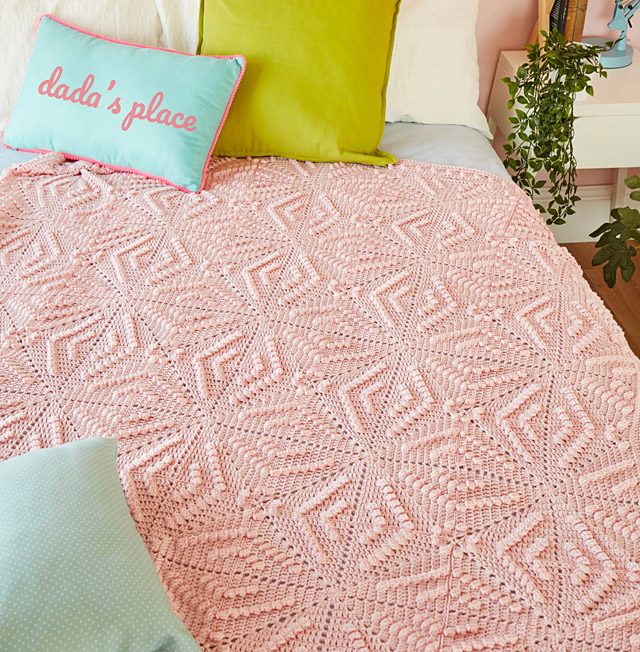 This is Menya blanket. I designed it for Crochet Now magazine. It was featured in issue 46. "The Menya blanket is a beautiful combination of cool style with interesting stitches! This blanket plays with patterns and texture to create a show-stopping piece made in luxuriously silky-soft yarn." to quote the magazine. I must only agree with all that!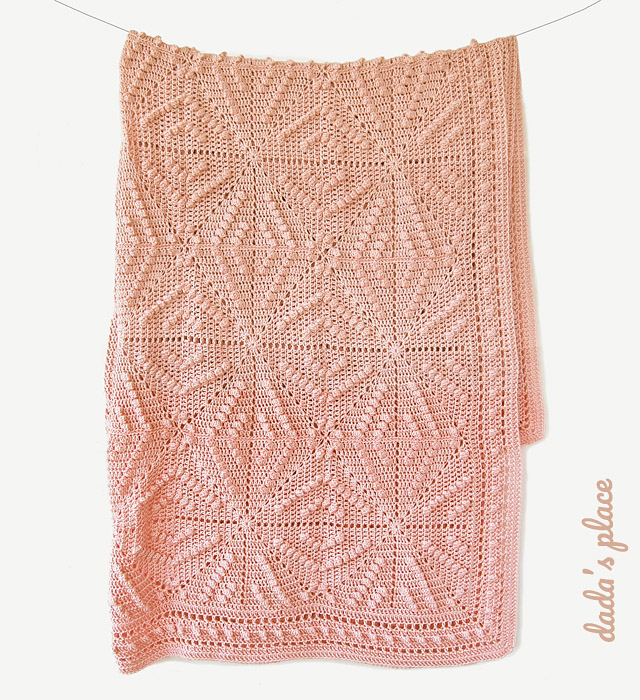 Despite the fact that last summer, when I was working on the blanket, was so, so hot, plus I had a tight deadline (so I was forced to crochet almost all day long), I really and utterly enjoyed the process. The main reason is the yarn I used – Hooked Eucalyps. Gorgeous, silky and soft like a cloud. It's 100% eucalyptus! I know! It's unbelievable! I'd never heard before that yarn can be made from eucalyptus. And to my surprise, it looks and feels like it's made of silk. Working with that yarn was an incredible experience. I loved it, and I highly recommend it to everyone. Try it. It's awesome!
*
It's aran weight yarn, 165m per 100g skein. I used 21 skeins in Pastello 06.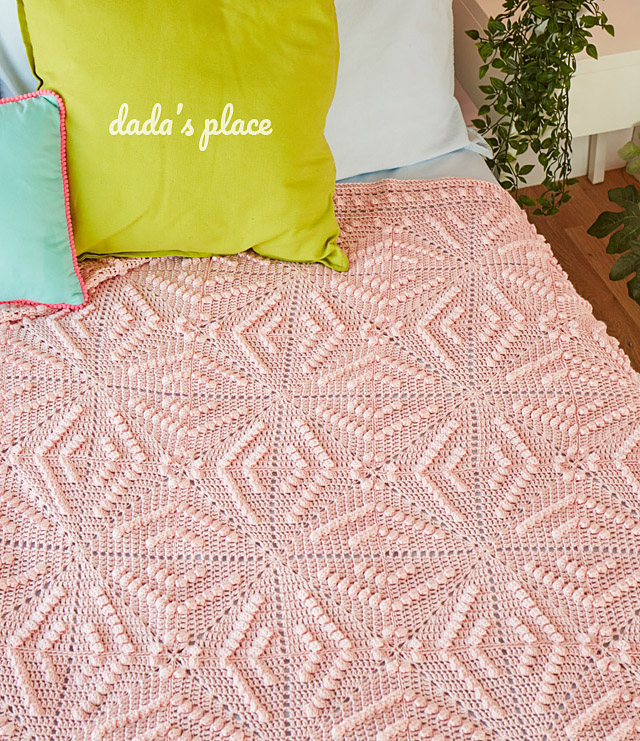 The blanket is quite big; it's a 143 cm square. It consists of 25 squares. Each square is approximately 25 X 25 cm.
*
I used 4.5 mm crochet hook.
*
The blanket is pretty easy to make. To design it I used only several stitches: magic ring, chain stitch, slip stitch, double crochet and popcorn stitch. That's all! You don't have to use plenty of "fancy" stitches to achieve something beautiful and interesting. I strongly believe that "les is more". In design and in life. I'm one of those people who have a constant need to get rid of things…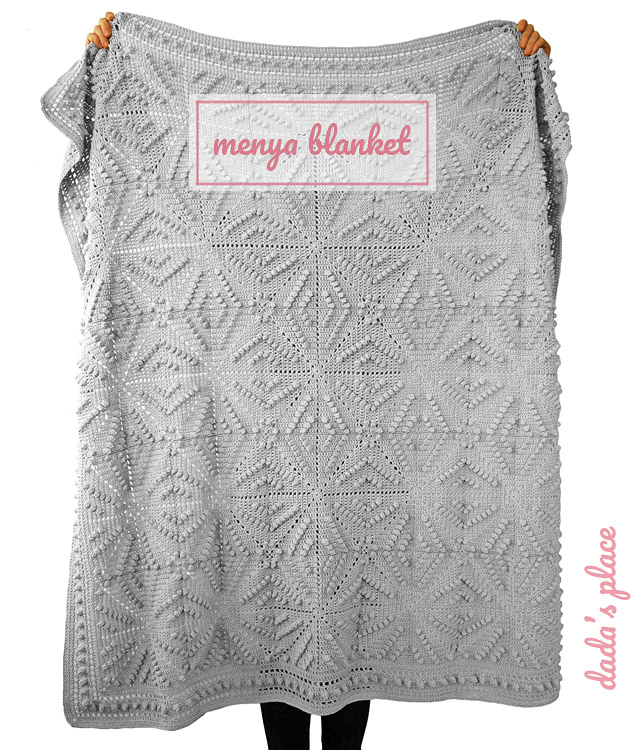 Let's get back to the subject. I have one more thing to tell you. The peachy pink version of Menya blanket just got a brother. Two days ago I finished my second, gray version, which I made for the purpose of the step-by-step tutorial. So now I have 2 Menya blankets! Which is great, because it's winter and the blankets are so warm and snugly… Can't wait to finish with this post to wrap myself in the blanket, grab a book and enjoy the evening. Of course a cup of Earl Gray tea with milk and honey is mandatory. And yummy.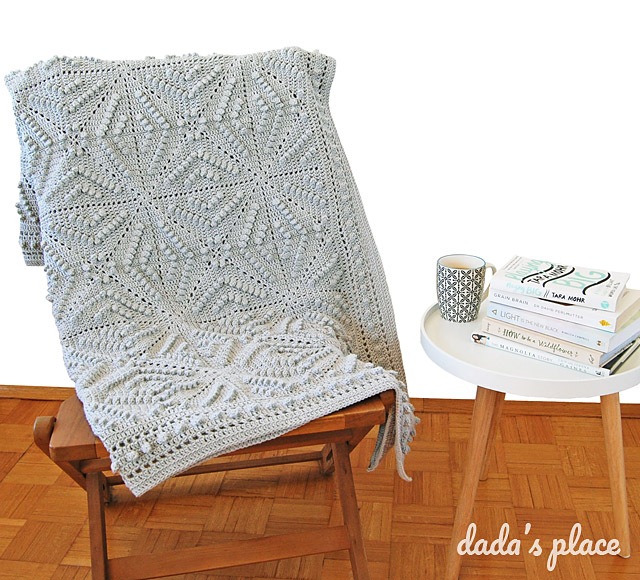 The gray version is made of 100% cotton yarn, Cotton Classic by St. George. It is light worsted, DK yarn, 120 m per 50g skein. The blanket turned out a little smaller, 130 x 130 cm, and the square is 23 x 23 cm. It weighs 1342 g, so I spent 27 skeins of 50 g. Since that yarn is very affordable, I didn't have to spend a fortune on yarn. It cost me only $22.4 or 20.44 Euros.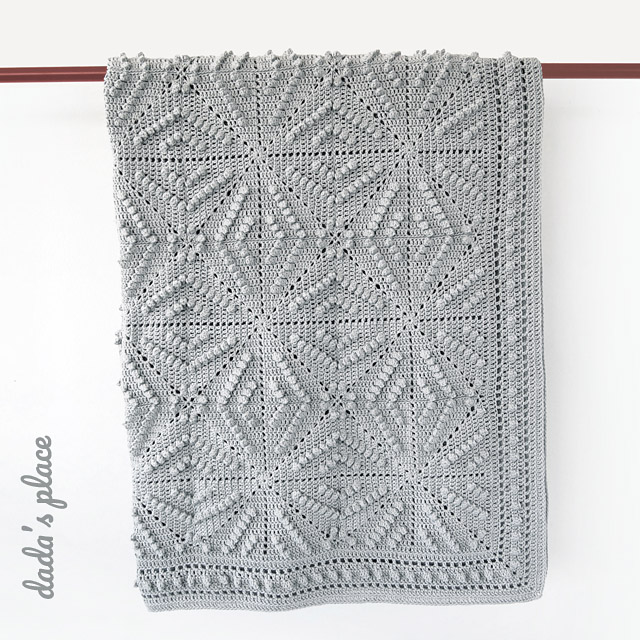 The pattern is very detailed. I rated it as intermediate level, but I'm sure that it can be easily accomplished by every committed beginner. The pattern includes:
– a step-by-step picture tutorial on how to make the square,
– a step-by-step picture tutorial on how to join the squares,
– a step-by-step picture tutorial on how to make the border,
-a crochet chart for the square,
– a crochet chart for the border,
– written pattern for the square, joining, and the border,
– a stitch guide,
– information on materials used.
All that packed in a 16 page pattern with almost 100 (98 to be exact) step-by-step pictures!
*
The pattern is written using US crochet terms.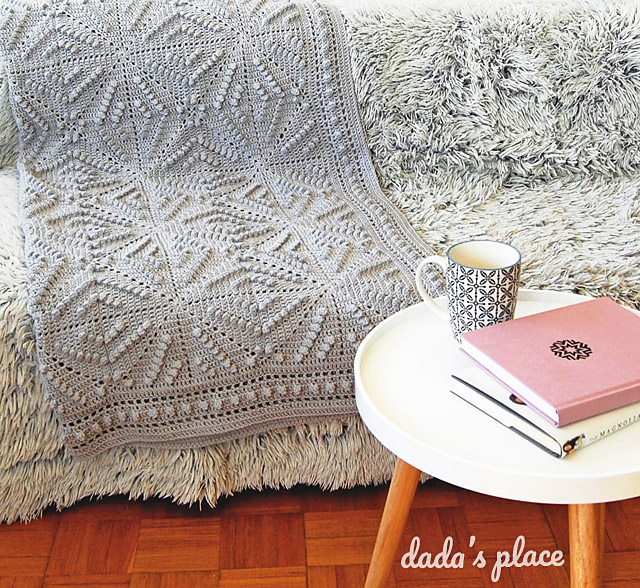 The Menya blanket pattern is now available in Dada's place shop. Click here to get it.
*
You can also purchase it in Dada's Ravelry shop, and Dada's Etsy shop as well.
*
I'm looking forward to seeing your versions of Menya blanket, so please share your pictures on Instagram and Facabook, and don't forget to tag me and to use #menya blanket hash tag. You can also email me the pictures of your finished projects. I'm always thrilled to see your own personal touches to my patterns. And what can be done when two creativities come together.