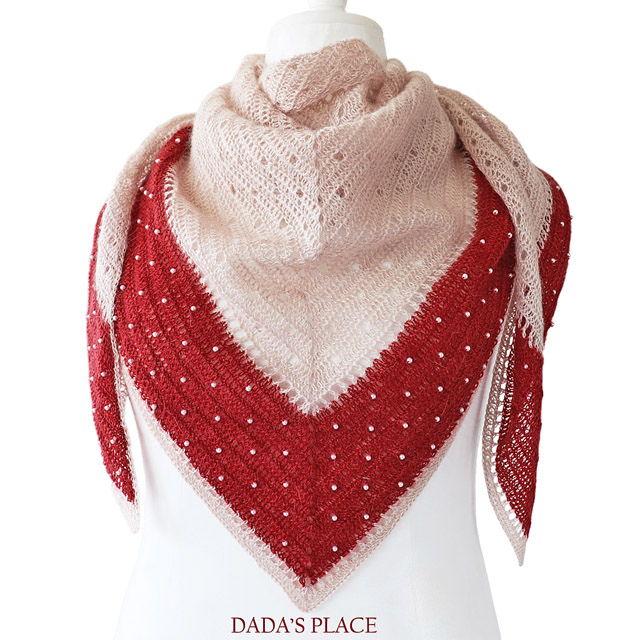 I'm very happy to announce the publication of the Delicate Shawl pattern, the latest addition to my current shawl collection. It's my seventh shawl design. It is made with delicate and beautiful 100% mohair kid yarn, so it's very soft and light.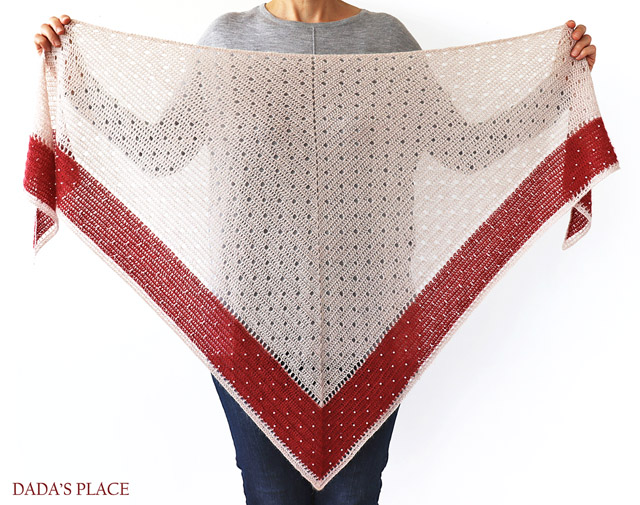 The process of designing the shawl went smoothly; I was able to quickly achieve exactly what I had in my mind, but the yarn choice turned out to be very painful and time consuming. I had to make three versions until I was happy with the result. Actually, I was very happy with my first attempt. It looked beautiful in real life, just as I wanted, but I struggled to show its beauty in the pictures. Because the color of the yarn was so light, and there wasn't enough contrast between the yarn and beads, the pearls were difficult to see. So, I went to my yarn shop and bought another yarn. I chose the purple color because it was dark enough to highlight the beads.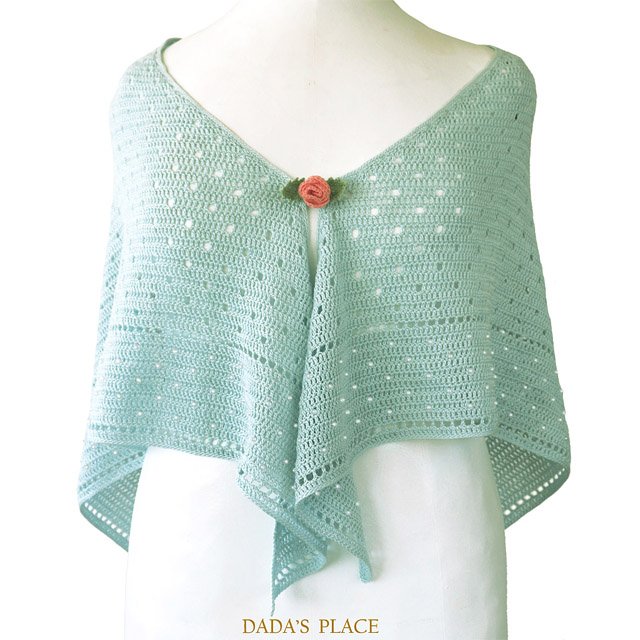 The first version of my Delicate Shawl
*
There was only one problem. I don't like purple. And when I finished the shawl and took several pictures, I decided that I didn't like it. It wasn't good enough for the pattern. To say that I was miserable and discouraged would be an understatement.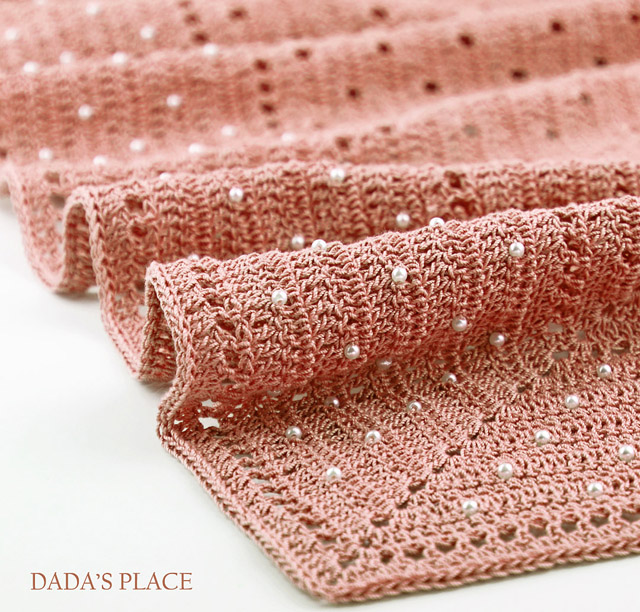 The second, purple version, which I edited in Photoshop. I changed the color into this brownish shade I like.
*
And then, my mohair yarn arrived. It was love at first sight! I didn't have any particular pattern in mind for that yarn; I just ordered a shawl quantity, hoping that I will figure it out later. It turned out that it was just what I needed. The delicate and thin beige mohair was perfect for the shawl's body, and the rich burgundy red was just the right shade for the bead panel; the ideal contrast to pearl beads. So, the third version of the Delicate Shawl was born. It took me only a week to finish.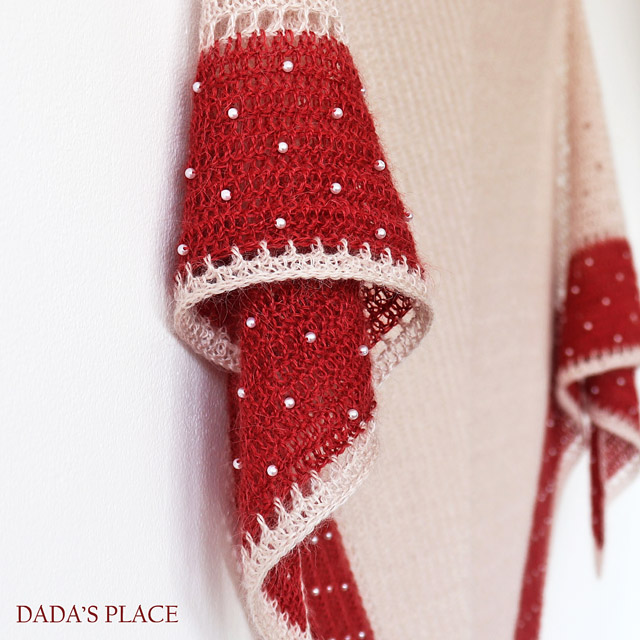 The gorgeous, luxurious yarn I used is Concept Mohair Lace by Katia. It's 100% mohair kid, 25g/162m. Working with such delicate yarn was a real pleasure. I enjoyed every second, every stitch of it. I spent 4 skeins of 25 g of the main color (beige), and 2 skeins of the contrasting color (burgundy red).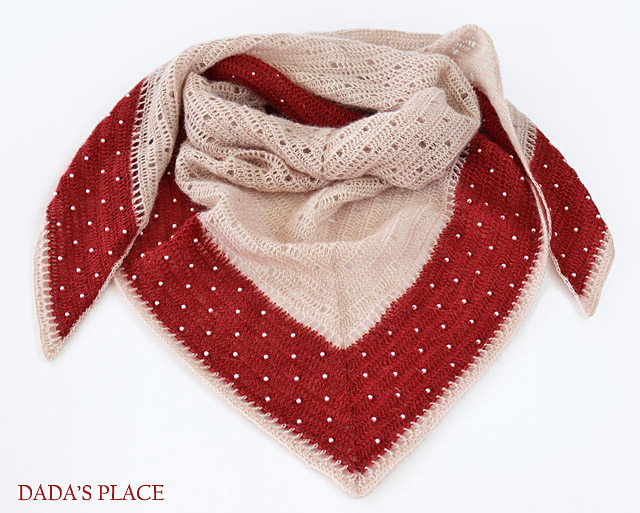 I was a little scared to block the shawl because I had never blocked mohair before, but it went smoothly. It blocked beautifully.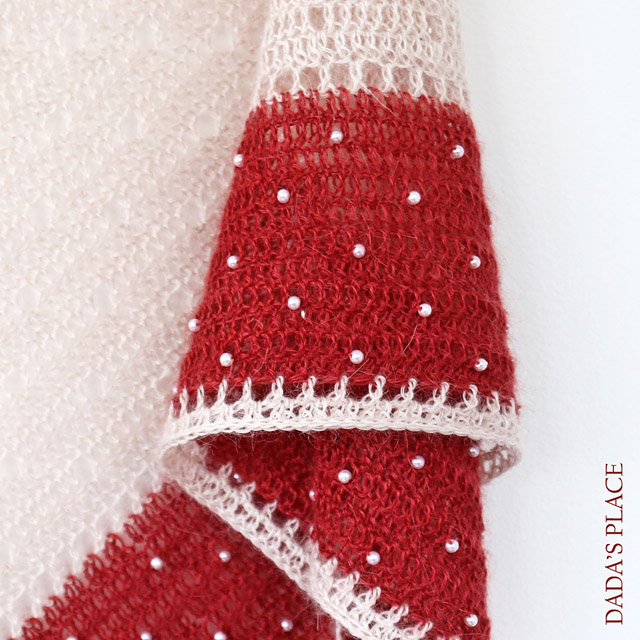 The shawl is very simple to make. I used only four basic stitches: a double crochet, a chain stitch, a single crochet and a slip stitch. I love simple things. I noticed that as I'm getting older I appreciate simplicity more and more. This shawl is an example of that. There are only a few stitches packed in a simple design. That's the kind of beauty I am drawn to.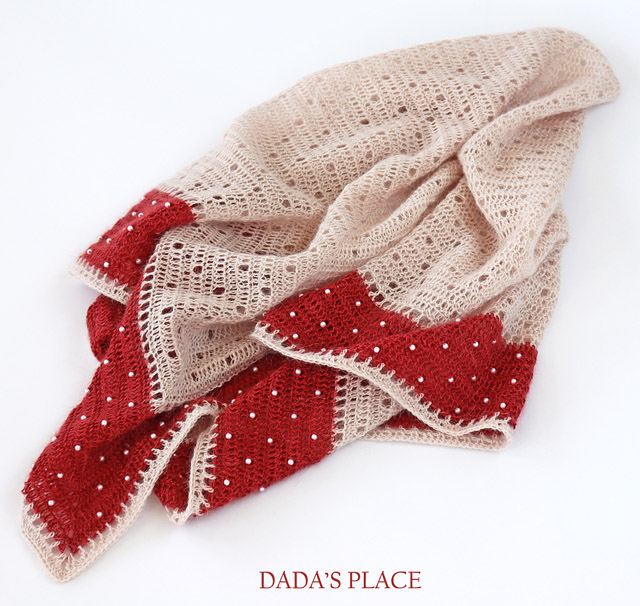 The construction of the shawl is also very simple. You start with just several stitches, and you add stitches on both sides as you go. The pattern is repetitive and easy to remember, so crocheting is very relaxing.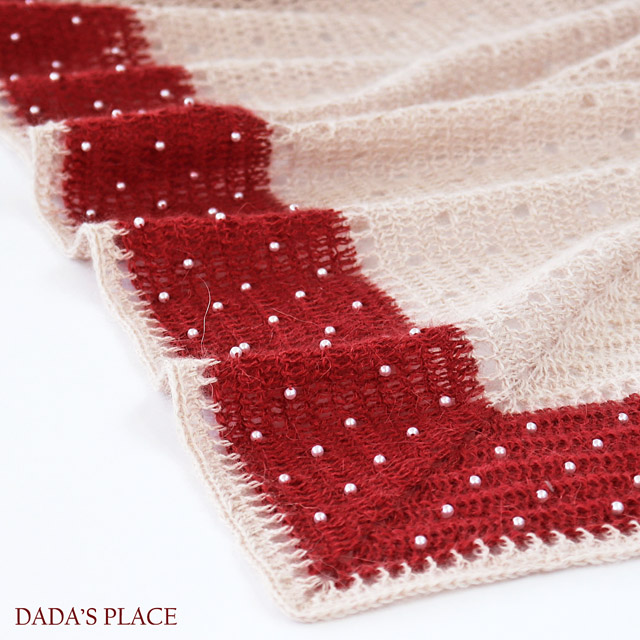 The shawl is approximately 174 cm (68.5") wide and 77 cm (30") long, after blocking. I used 3 mm crochet hook.
*
The tutorial for the Delicate Shawl is written in English using US crochet terminology. It's very detailed, and it includes:
– a row-by-row written pattern
– a step-by-step picture tutorial for the first 5 rows
– four crochet charts
– a step-by-step photo tutorial on how to work with beads
– a tutorial on how to string beads onto yarn
– a stitch count and
– information on materials needed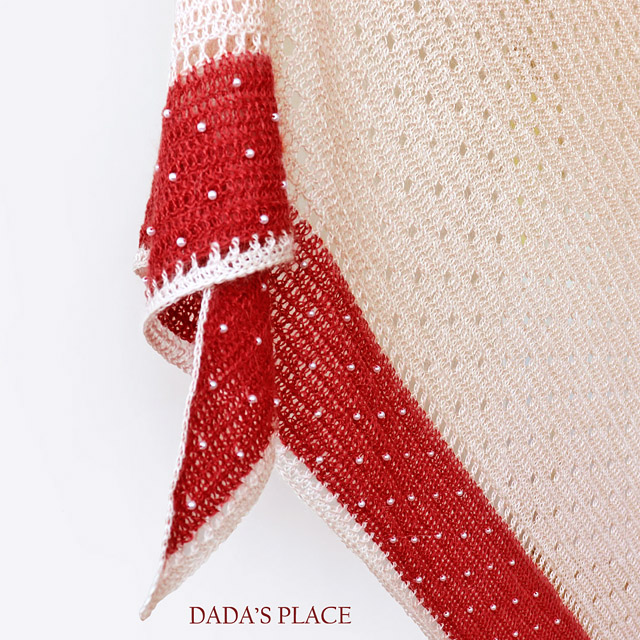 You can buy the Delicate Shawl pattern in Dada's place shop, HERE.
*
You can also buy it in my Ravelry shop, HERE, and my Etsy shop, HERE.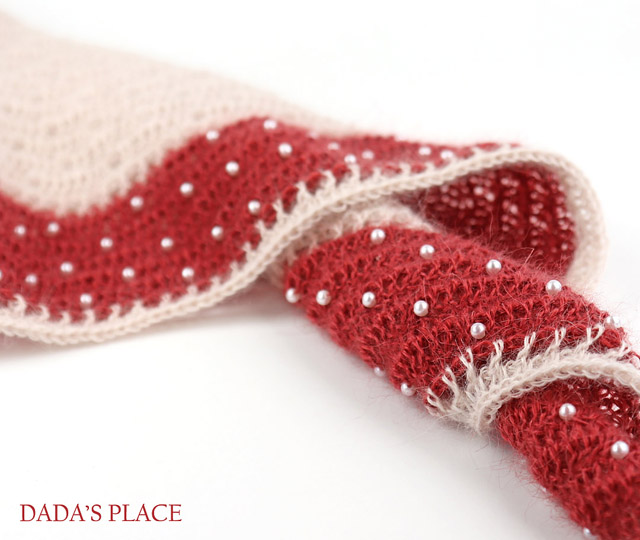 I would really, really love to see all of your beautiful and creative versions of the Delicate shawl! Please tag me and use the hash tag #delicateshawl when you post it on social media. I will share the best ones in my Instagram and Facebook stories and on Pinterest.