I have a new passion! Making and designing crochet bags! How awesome it is to be able to make your own bag! To pick the colors, size, style and design. Then to go to a yarn shop, and chose the yarn – this is my old passion – buying yarn, but if you're reading this post, you're probably the same. And finally when you grab some free time to sit and enjoy crocheting. It's pretty awesome! I love the whole process. I'm also lucky to have the opportunity to set the creative process on an even higher level by designing my own bags. But, I must admit, that part is sometimes a little frustrating.
This bohemian style bag is medium sized shoulder bag (27 x 28 cm), and the strap is 92 cm long. You can make the bag bigger if you add more squares, or if you use thicker yarn. The square measures approximately 13 x 13 cm (5" x 5").
I love working with cotton yarn, and this bag is no exception. This time I used gorgeous, 100% cotton yarn "Tanja" 125m/50g (manufacturer: "BIM tex" Serbia). I discovered this yarn brand just recently, and I absolutely love it! The color palette is beautiful, and the yarn is very nice to work with.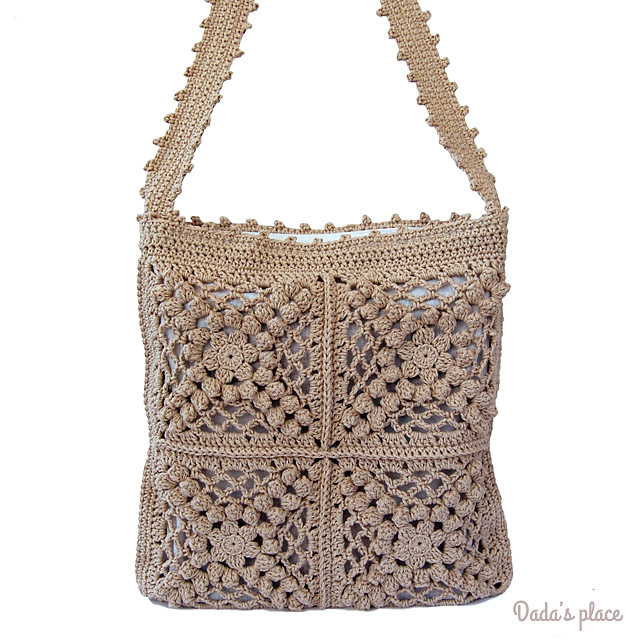 I always love to line my bags, and this time I decided to use simple white cotton fabric, nothing fancy. And it works very well. Lining this bag is actually very easy. You don't have to be very skilled at sewing to be able to successfully carry out this task. It can be done even by hand.
Like all my patterns, this one is also very detailed. (22 pages) There are more than 150 step-by-step photographs to lead you painlessly through the boho-chic bag adventure.
For the first time I divided this process into 6 easy steps:
1. Making granny square (49 step-by-step photographs)
2. Joining (39 step-by-step photographs)
3. Making the edge (19 step-by-step photographs)
4. Making the strap (19 step-by-step photographs)
5. Sewing on the strap (14 step-by-step photographs)
6. Lining the bag (17 step-by-step photographs)
This bohemian bag pattern is suitable for intermediate crocheters or advanced beginners who have mastered the basic stitches. I have demonstrated the special stitches like Cluster stitch, Popcorn stitch and Picot, step-by-step, so even if you haven't tried them before, you'll be able to do them like a pro after finishing the first square. The pattern is available in both US and UK crochet terms.
You can make this bag in one color, two colors, three, four… or as many colors as you wish. You can also play with the granny square, and use it to make blankets, scarves, table runners, curtains… the possibilities are endless.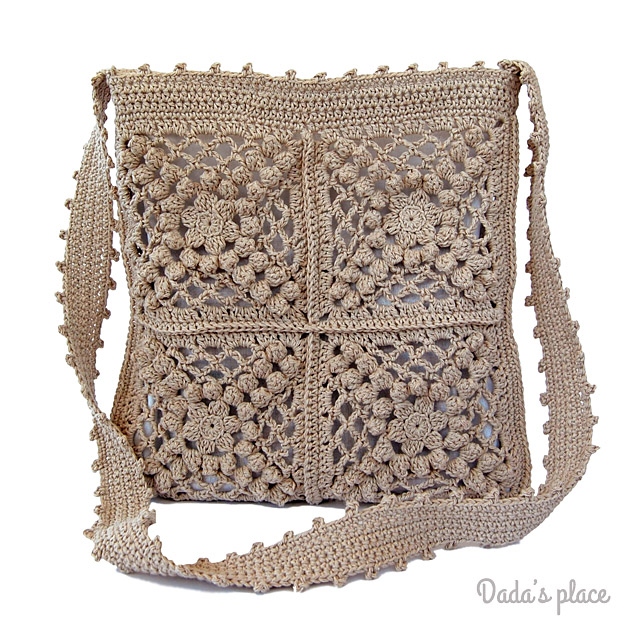 The boho bag pattern is now available in Dada's place shop (payment options: Credit cards & PayPal).
*
You can also find in in my Ravelry shop, and my Etsy shop. (payment option: PayPal)
*