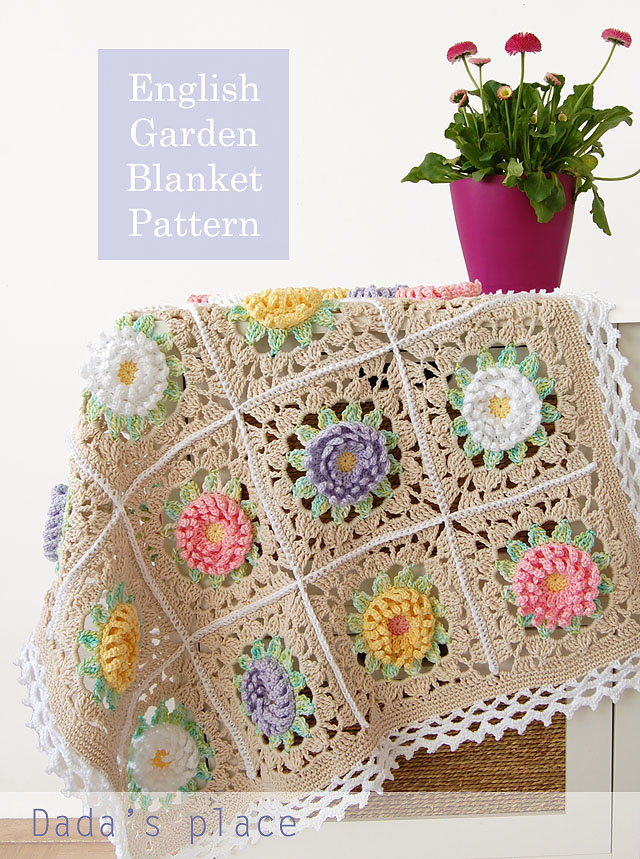 A long time ago I fell in love with English gardens. The culprit for that was
Penelope Hobhouse
, a famous British gardener. I enjoyed immensely watching her amazing TV gardening shows, while dreaming of having a beautiful, lush garden of my own. Now, many years after, I still don't have any garden, let alone an English garden. I live in a flat on the seventh floor… but, I have my beautiful plants on the balcony, my little piece of heaven. There I keep a ginkgo biloba tree, which we brought from Hungary when my son was a little baby, a little olive tree we brought from Corfu island (Greece), a yellow hibiscus, also brought from Greece, a little avocado tree, grown from the seed… along with many others seasonal flowering plants…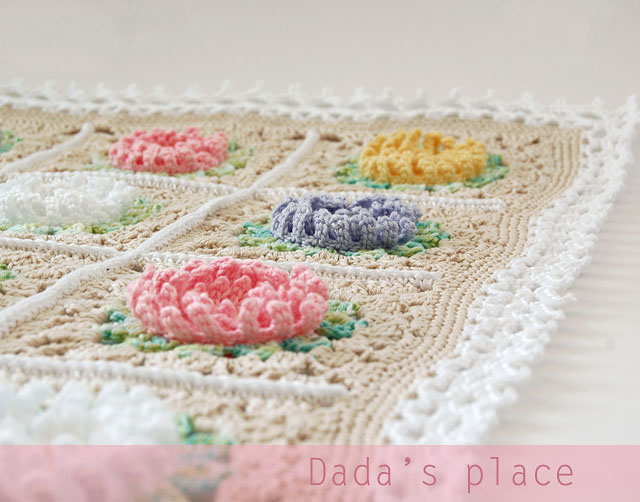 So, I decided, if I can't have an English garden, I can have at least an
English Garden Blanket
. Now, you can see how much love has been weaved into this blooming blanket.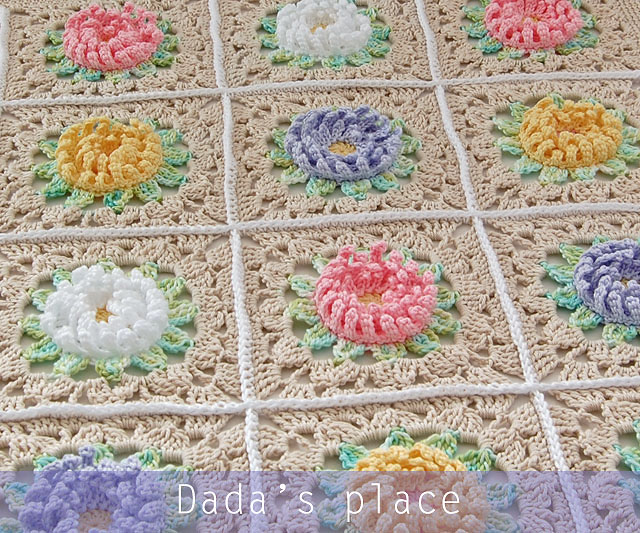 The blanket is made of 100% cotton yarn "Tango" and "Tango color", 125m/50g from
St. George
(manufacturer from Serbia). It measures approximately 83 x 68 cm (32.5″ x 26.5″).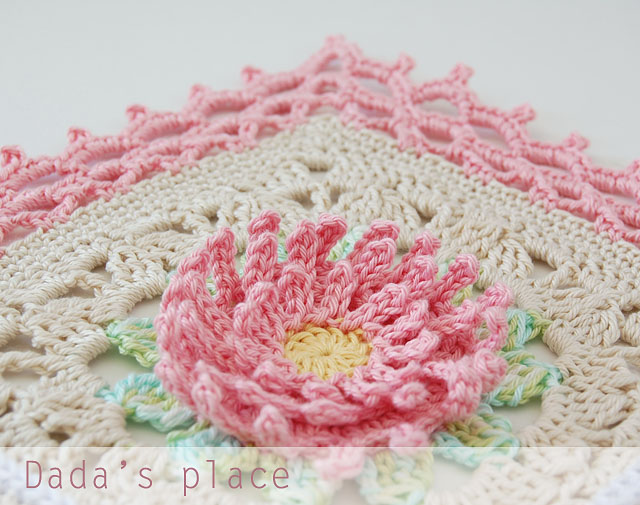 The English Garden Blanket is similar to my
Victorian Flower Blanket
. Actually, the first 4 rows are the same, but the blankets have different petals, and the last 2 rows are different, too. It seems to me that the English Garden Blanket is lighter, more transparent and has that appealing lacy charm. The borders are completely different, but I think that the English Garden Blanket border would look nice on Victorian Flower Blanket and vice versa.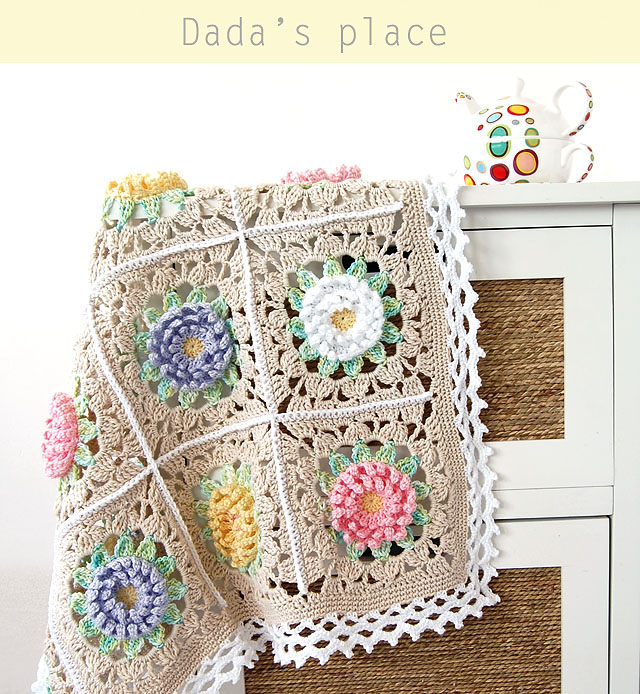 For this blanket I used 3,5 mm crochet hook (USA – size E-4, UK – size 9). The pattern is written using US crochet terms.
The
English Garden Blanket pattern
is very detailed with lots of step-by-step photographs. When I write a pattern, I always have in mind that not so long ago I was a complete beginner, not knowing anything about crochet… So I want my patterns to be clear and easy to follow. That's why this pattern has more than 90 step-by-step photographs, 5 crochet charts and several diagrams.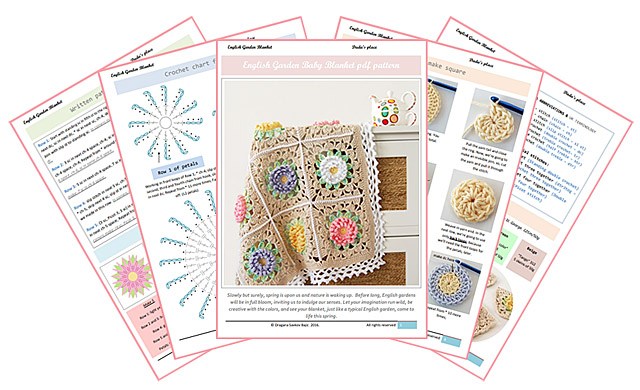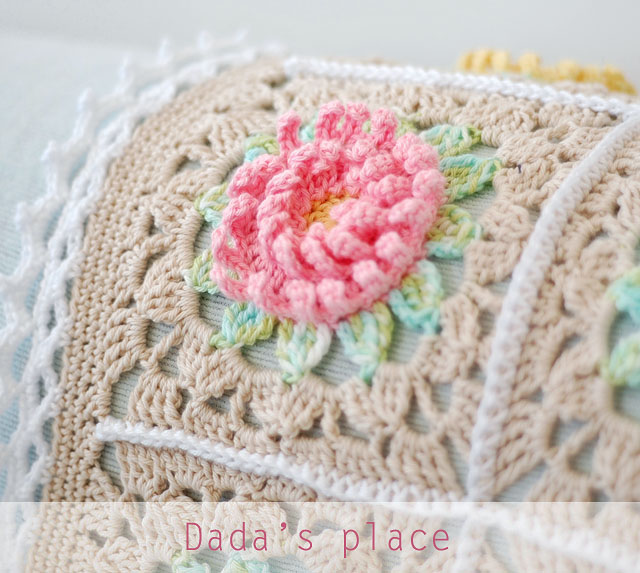 *
So, if you love English gardens too, and would like to have one in the form of a blanket, you can purchase this  pattern in
Dada's place shop.
 (Payment options: credit cards and PayPal)
*
*