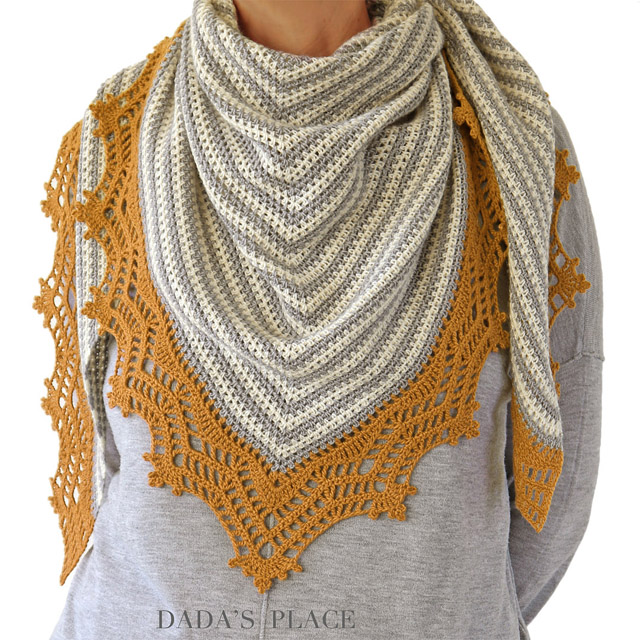 Tayna shawl was inspired by the knitted shawl I saw on the lovely Little drops of wonderful podcast (which I've just recently started to watch). The shawl was quite simple, with a striped body and a lacy border in contrasting color. It is the pattern by Knitting Expat Designs called Highland peaks shawl, and if you are a knitter, or just curious to see how it looks, you can check it out HERE.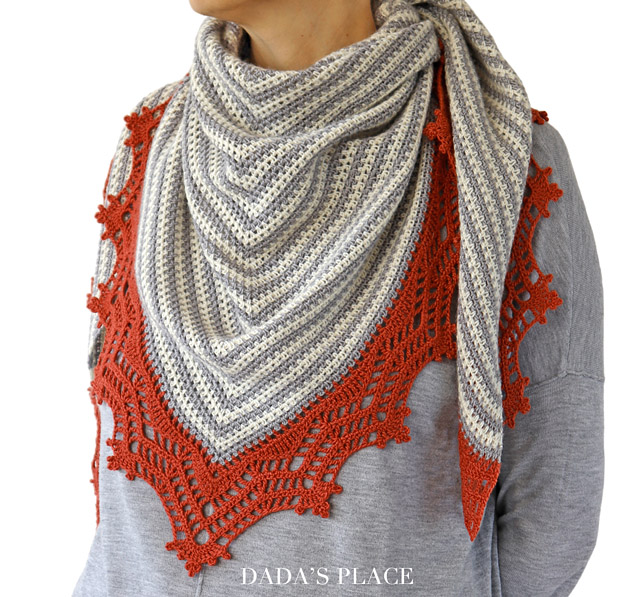 I decided to make the striped body using a moss stitch (linen stitch), because it's not only easy to make, but also beautiful. I used it before in my Concept shawl. Worked in 2 color stripes, it remands me of granny stripe blankets.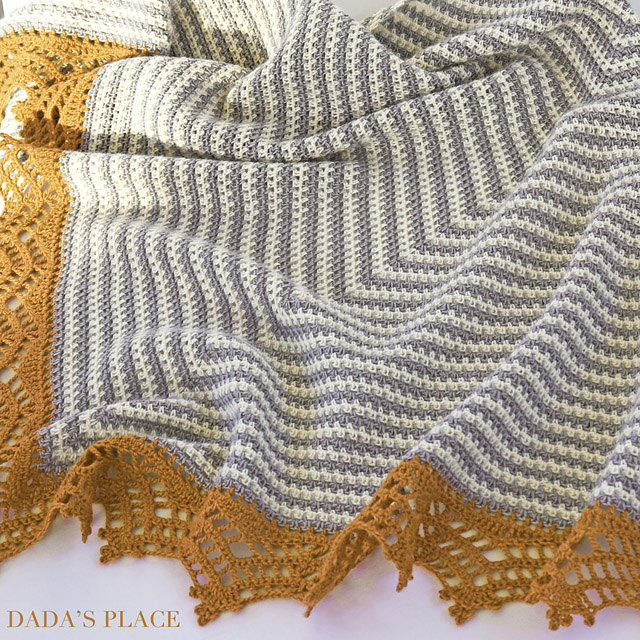 The yarn I used is perfect for this project. It's beautiful, very, very soft yarn, not at all scratchy, which is important if you're going to wear it around your neck. It is Silky Lace by Katia, 80% merino extrafine superwash – 20% silk, 50g/260m. I enjoyed working with this gorgeous yarn so much that I've already ordered it again for my next project. I ordered it from Yarnstreet.com. They have the best prices, and they usually ship the next day!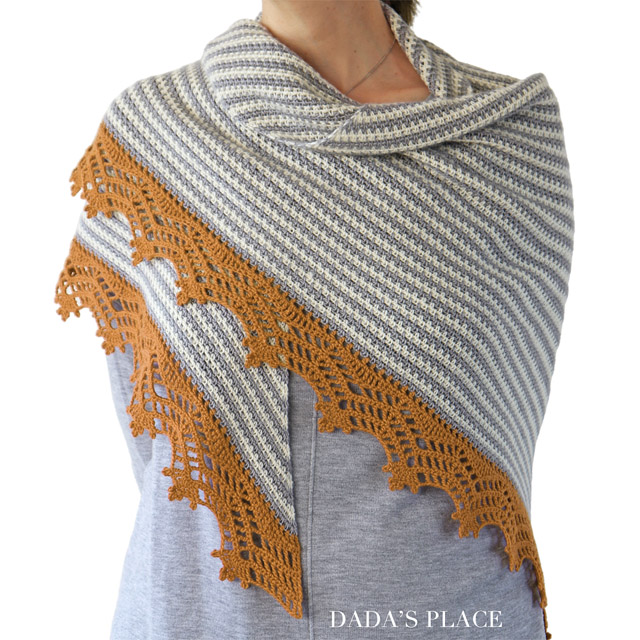 When I finished the body of the shawl, I had a hard time deciding which color to use for the border. I ordered 4 different colors (black, burgundy red, mustard and pale pink). It seemed as if every color would be perfect for the border, but in the end I decided on burgundy red, although I think that mustard would be just as good. So, after taking pictures of the finished shawl, I played with colors in Photoshop, and changed the border color to mustard, just to see how it would look. I was very pleased with the result, and now I'm thinking of maybe making yet another shawl, this time with mustard border. But since several new ideas are already simmering in my head, it's unlikely that this will happen.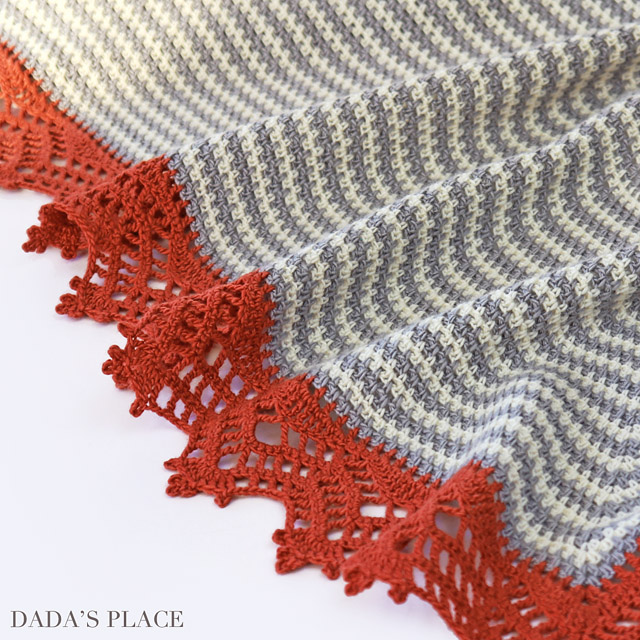 I paid much attention to the border. I wanted a beautiful and exquisite lace border, which I managed to achieve after a lot of math and trials and errors.
*
I used 3 mm crochet hook for the body, and 2.5 mm hook for the border.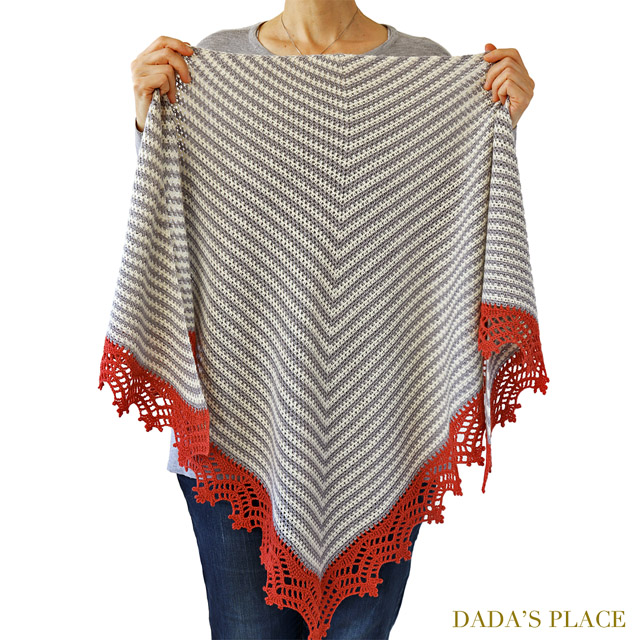 The pattern is very detailed. It contains 118 step-by-step pictures, 4 crochet charts, a stitch guide, a written pattern, information on materials needed, and a stitch count. I would say that it is an ideal project for an intermediate crocheter or an adventurous beginner.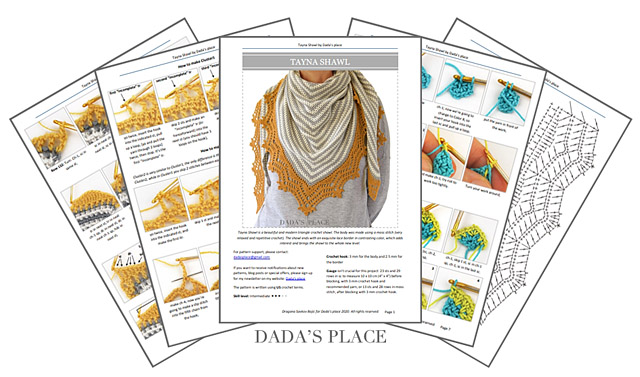 As always I'm eager to see all of your beautiful versions of Tayna shawl! Please tag me and use the hash tag #taynashawl when you post it on your favorite social media platform. I will share the best ones in my Instagram and Facebook stories and on Pinterest.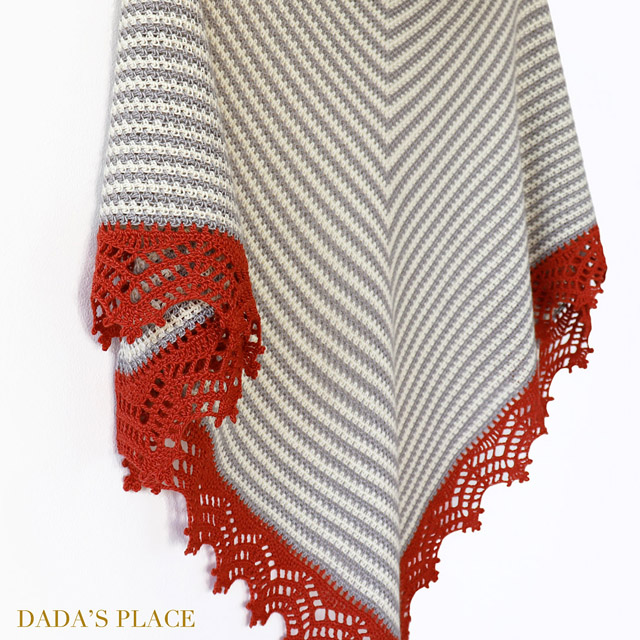 Tayna shawl pattern is now available for purchase in Dada's place shop, HERE.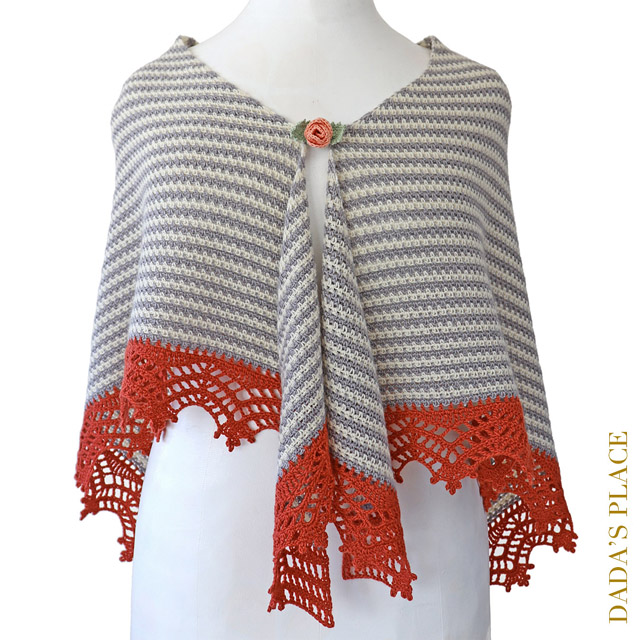 You can also purchase Tayna shawl pattern in my Ravelry shop, HERE, and my Etsy shop, HERE.