Do you remember my Vintage style blanket? I noticed that it's very popular on Pinterest, and the blog post about it with a free pattern is one of the most visited posts on my site. I don't know how many of you tried the pattern, but I received several emails from inexperienced crocheters who asked me to make a step-by-step tutorial. Since I really love that pattern and think that every beginner could make it with a detailed pattern, I decided to make a step-by-step picture tutorial. I made some minor changes to the pattern during the process, added one round, so it is not exactly the same pattern as my Vintage style crochet blanket.
I named it Fenya blanket. Fenya was my first dog. My first big victory. My sister and I have always loved animals, and since we were little we wanted to have a dog. Our working parents didn't want any additional obligations, like walking a dog when their daughters get bored with an active puppy full of energy. They always categorically rejected us when we asked to get a dog. But we were persistent. We went to dog shows, read dog magazines, and we asked and begged. Again and again. My older cousin told me once that when you want something so badly you have to think, pray and to draw it. So I thought about my future dog, and I drew it. And one day our parents relented: "Yes, you can have a dog" Just like that! I was 16 at the time, and I couldn't believe that after so many years of asking and begging our prayers were answered! So, we bought an Airedale terrier. Our first dog. Her name was Fenya.
She was my first big victory. Something I had to fight for. For years. And let me tel you, our parents didn't have to walk or feed her, or to do anything for her. Never. We didn't get bored with her.
Fenya blanket measures approximately 105 cm x 105 cm (41" x 41") and it consists of 16 squares. You can make the blanket bigger simply by adding more squares. The squares are quite big, 22 x 22 cm (8,7" x 8,7"). The whole blanket weighs 940g.
I made it with 100% cotton yarn "Cotton Classic" by St. George – 120m/50g but you can use whatever yarn you like. I chose this yarn primarily because of that pale powder pink color which I seriously adore.
I used Alize "Cotton gold" yarn for my previous blanket. It is a mix of cotton and acrylic, very soft and fluffy. And it looks great in this blanket.
I made a pdf pattern and step-by-step tutorial with more than 90 photographs. The pattern includes detailed explanation on how to make the squares, join the squares and make a border. I also made a crochet chart for the square.
The printable pdf pattern is now available for only $3.97 in Dada's place shop (payment options: PayPal and credit cards). You can also buy it in my Ravelry shop and my Etsy shop (payment option: PayPal).
*
I would really, really like to see your finished blankets, to see your own versions, so if you post it anywhere on the Internet please tag me and use hash tag #fenyablanket
*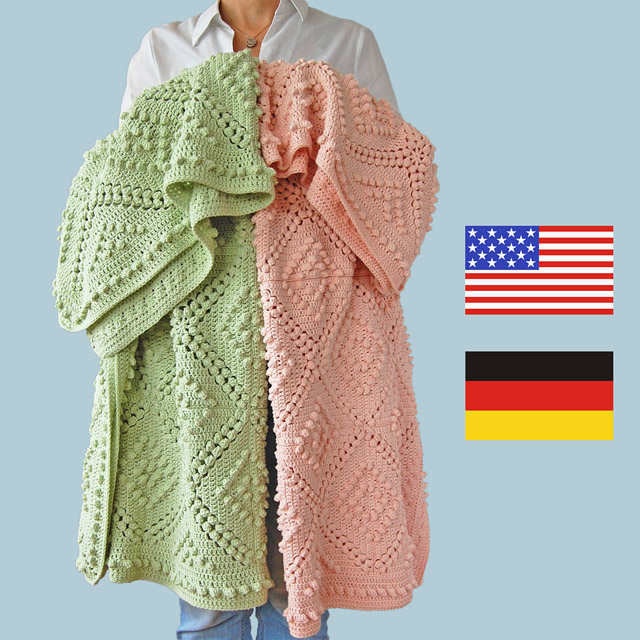 Update: Fenya blanket pattern is now available in German.
*
Click here to get Fenya blanket pattern for only $3.97!
*