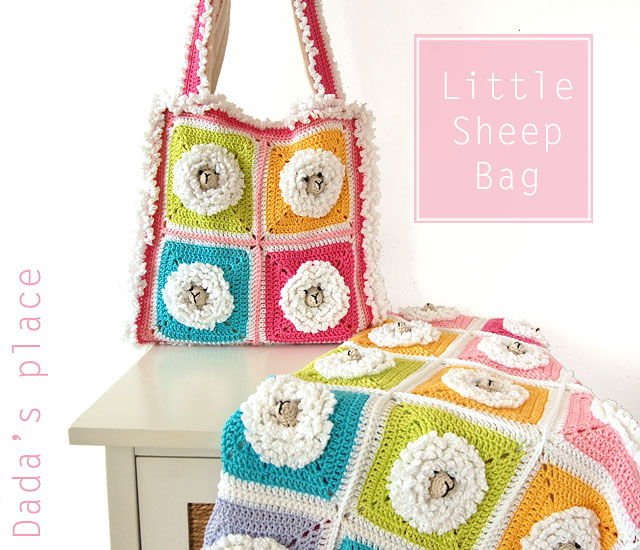 I didn't plan to make this crochet bag. It just happened, somehow accidentally, as a byproduct of my Little Sheep Baby Blanket pattern. I made the front side of the bag for the step-by-step tutorial of how to join squares and make the border, and only when I completely finished the pattern, it crossed my mind that I could use it for something. A bag was the first thing that came to mind. I just needed to crochet straps, to sew the back side of the bag and to insert lining. Easy.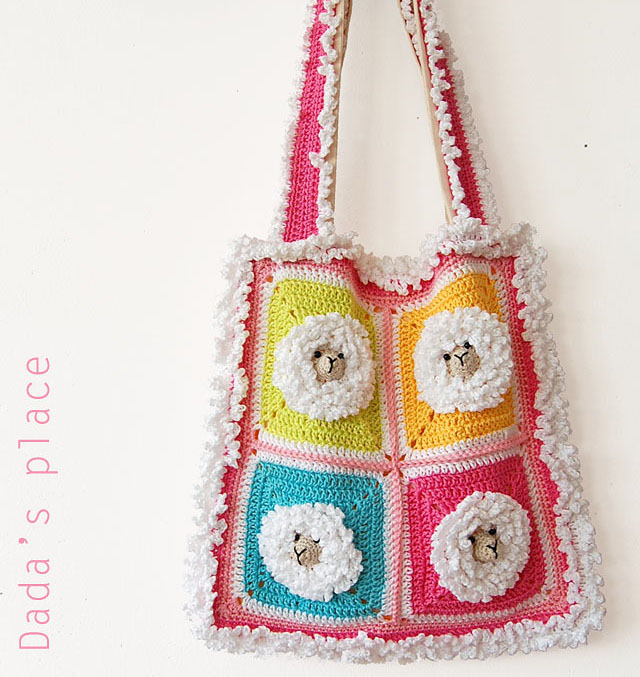 The longest part, which took majority of my time, was crocheting the straps. Because you know, I had to add that white raffle on the sides. The rest was easy-peasy.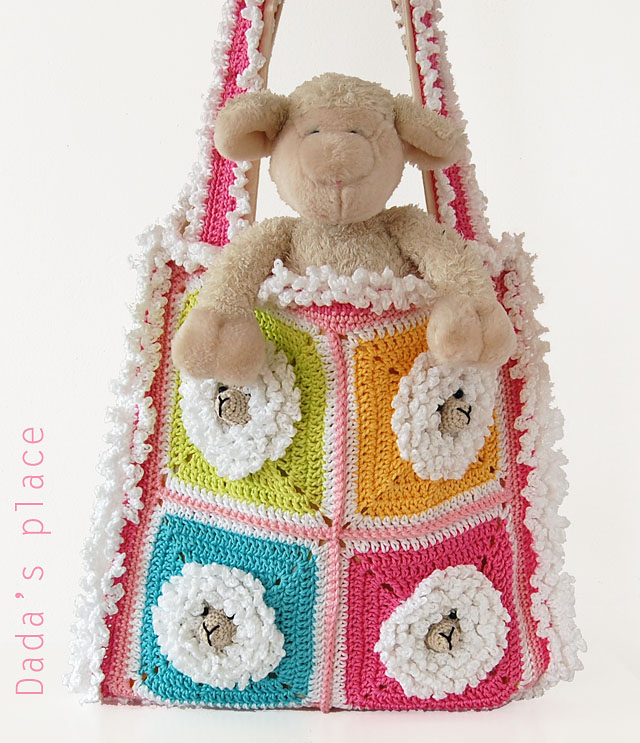 I used the same "Tango" yarn as for my Little Sheep Blanket. It's 100% cotton yarn, wonderful, and I love it! I used this yarn for majority of my crochet projects, because it's beautiful and inexpensive. The only problem with this yarn is that I never know which colors I will find in a yarn shop, so, many times I had to change my initial color palette for some project, because I couldn't find specific color, which was available the previous time I went shopping.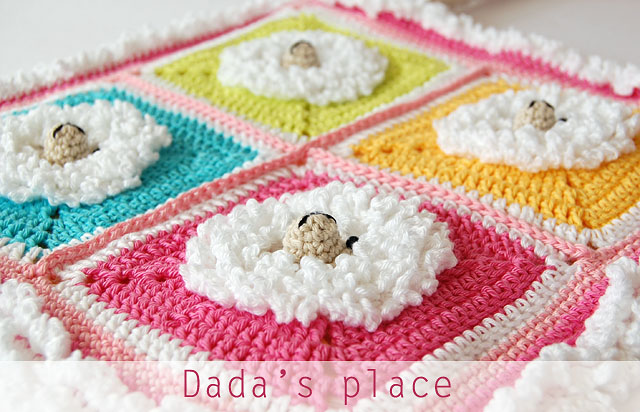 I love to add texture to my crochet, to make a piece more interesting, and this sheep granny square is very textured. Can I say also very interesting? Anyway, I like how it turned out!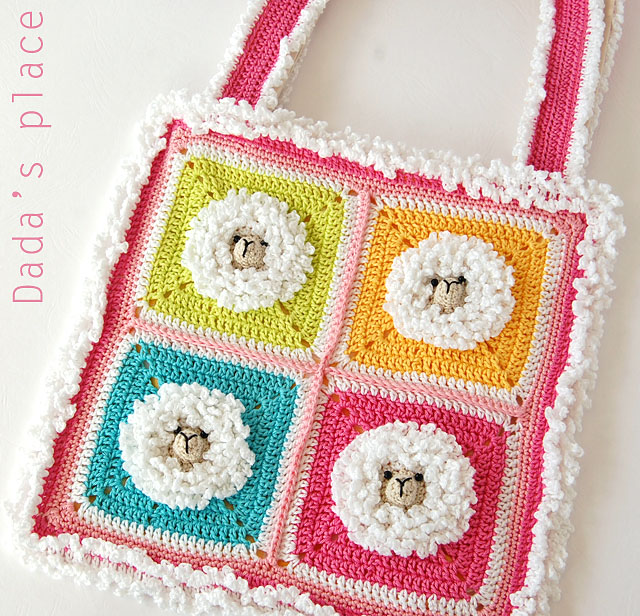 For this crochet tote bag I used Little Sheep granny square, which is a part of my Little Sheep Baby Blanket Pattern.
*
The Little Sheep Baby Blanket Pattern is available in Dada's place shop (Payment options: credit cards and PayPal).
*
You can also buy it in my Ravelry shop, and in my Etsy shop. (Payment option: PayPal)
*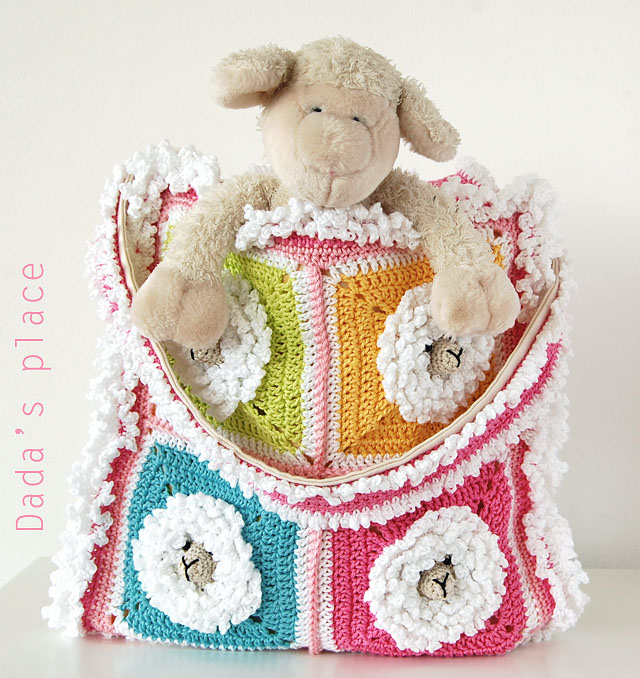 What else can I say about this bag? I enjoyed making it, it was one of my most satisfying small crochet projects, so I will definitely make more crochet bags in the future. Because they are easy to make, inexpensive, beautiful, and very useful.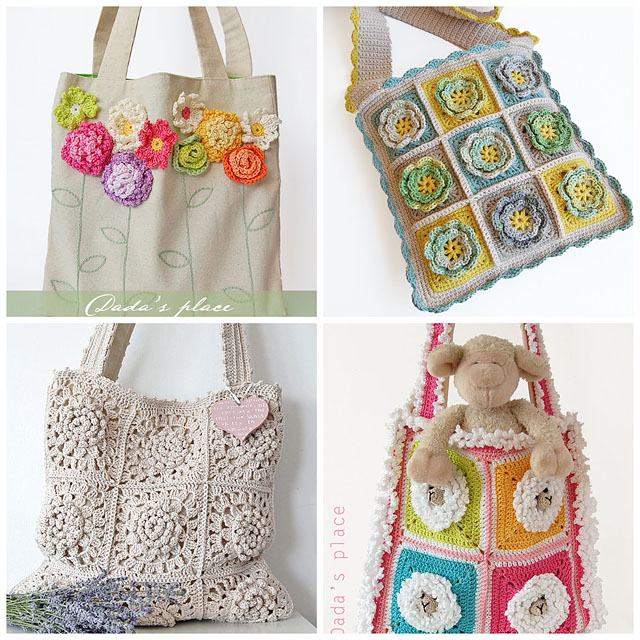 This is my collection of crochet bags:
1. Tote bag with crochet flowers
2. My first crochet bag
3. Victorian Flower crochet tote bag
4. Little Sheep crochet tote bag
*