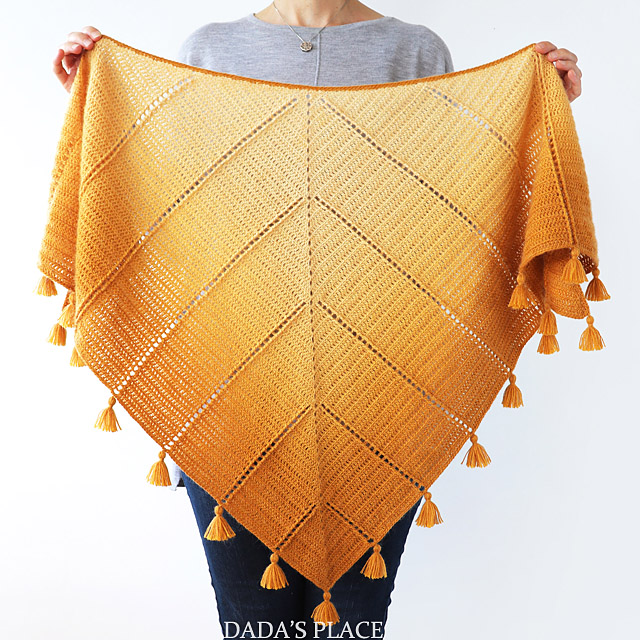 Al Amal shawl is simple and elegant, and very wearable because of its clear design. But you can make it more dramatic and eye-catching if you chose some interesting, flashy yarn. You can also add pompoms instead of tassels. It would bring a completely new and modern dimension to the shawl.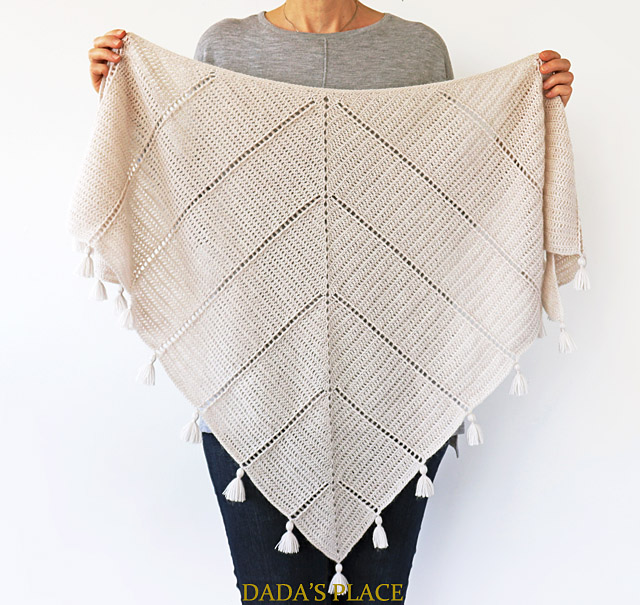 I find it interesting how an idea comes to fruition. Sometimes that process goes easy and smoothly, and I manage to turn the idea into reality without any effort. But some ideas have their own will and they want to develop and grow and become something completely different. It's a little bit like living with a needy, complicated teenager. It's tough. Believe me, I know. I live with one.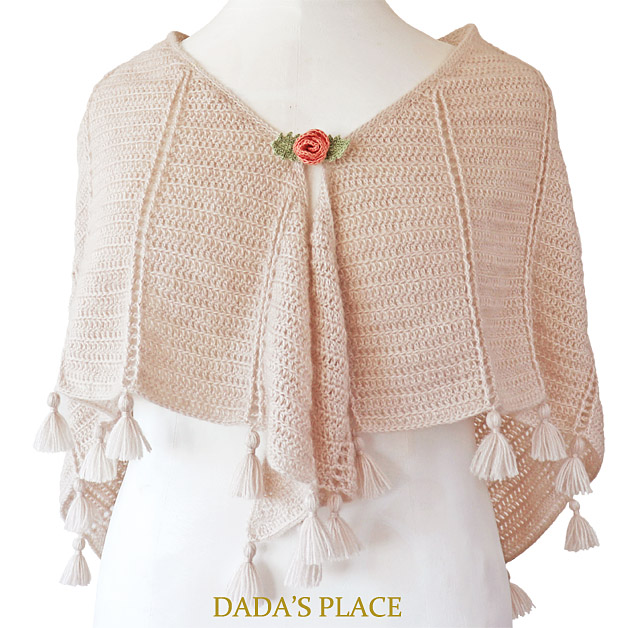 The idea of this shawl was very easy to handle. I managed to achieve exactly what I had in my mind with very little effort on my part. So, I wanted to reward it for saving me so much trouble with a nice, proper name. Because the shawl had no name. All the time I was working on the design, I was referring to it as The New Shawl. The New Shawl was written in all my documents. And then one day when I was preparing for my English lesson, I read in an article that a space mission called Al Amal (which means "hope" in Arabic) was sent to Mars. I liked the sound and the meaning of it. So, that's how The New Shawl has got its name.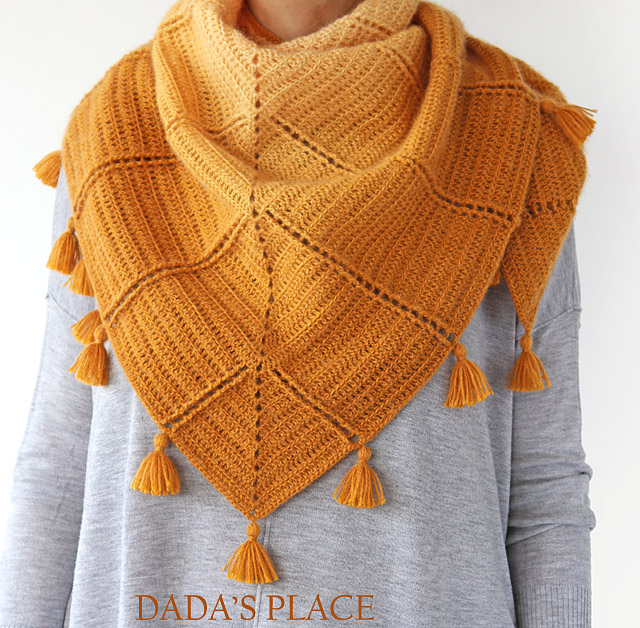 Maybe you wonder why I made 2 versions of the shawl. The reason is my impatience. When I developed the pattern, I was eager to start on working, but my yarn shop was closed due to vacation for the next 10 days or so. 10 days are an eternity when it comes to crochet. I know that you totally understand! So, I looked at my yarn stash in search of some appropriate yarn. And I picked up this Alize Angora Gold in cream, which I've already used for my Weldy shawl and Into the woods blanket. I love that yarn. It looks nice and sophisticated, and it's very affordable at the same time.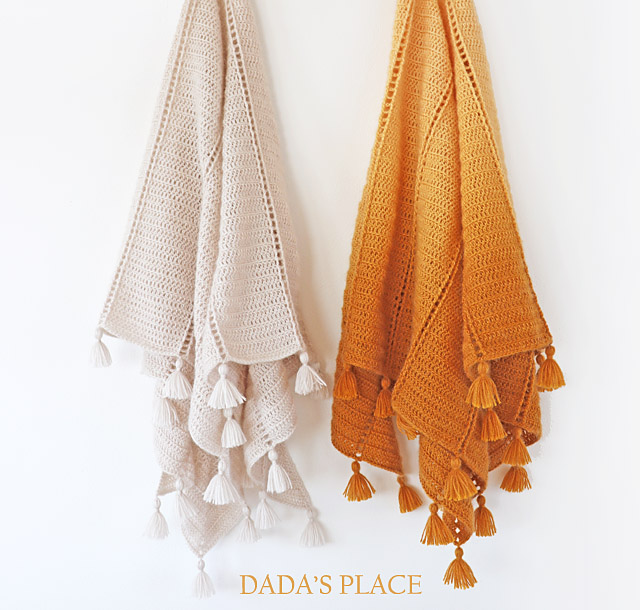 And while I was working on my first version (the cream one) I knew that I wanted to make it in some gradient yarn. So, as soon as my yarn shop opened again, I went there and picked up this mustardy-yellow cake from Alize. It is called Angora Gold Ombre Batik (color 7358). The cake was only 150 grams so I didn't manage to make the shawl using only one cake, so I bought another one. Since I needed only about 190 grams, I was left with enough yarn to use in another project. Maybe I'll design a hat or a pair of mittens, to go with the shawl. I'll see.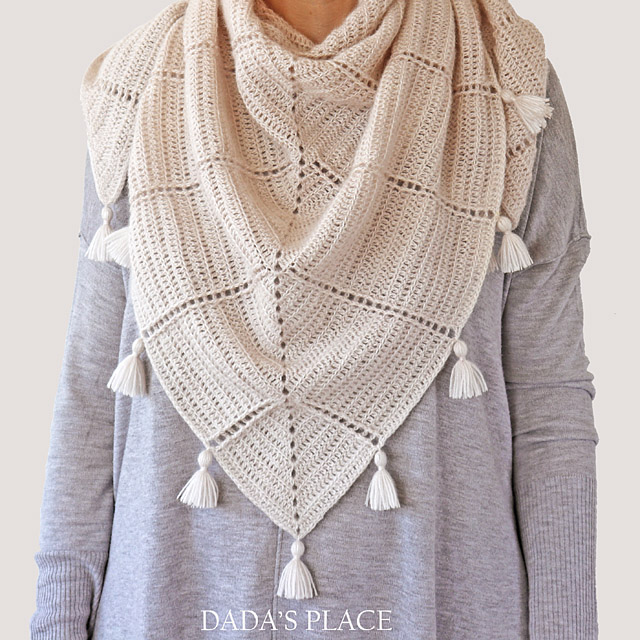 The shawl is approximately 140 cm (55") wide and 70 cm (27.5") long after blocking. I always recommend blocking your shawls because it gives them that professional and sophisticated look. The shawl is the perfect size to wear as a bandanna scarf. I used my pink 3 mm crochet hook.
The pattern is very detailed and it includes:
– a row-by-row written pattern
– a step-by-step picture tutorial for the first 5 rows
– three crochet charts
– a step-by-step photo tutorial on how to make tassels
– a tassel placement diagram
– a stitch count and
– information on materials needed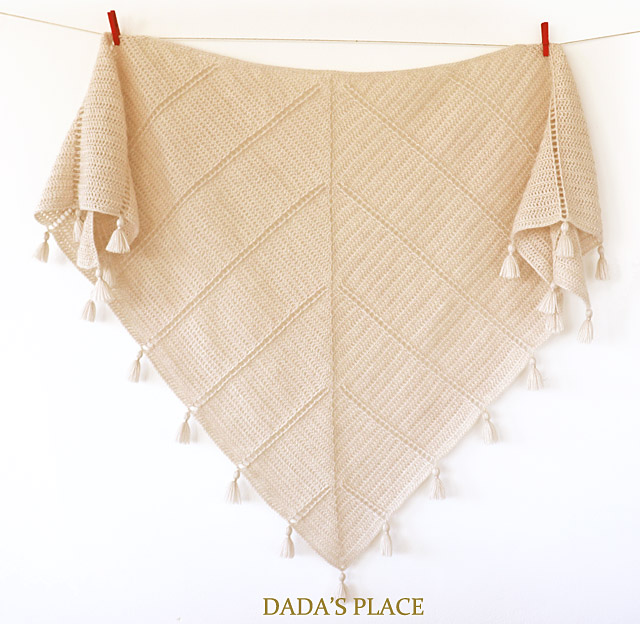 The Al Amal shawl is available in all my shops. You can buy it in Dada's place shop HERE, on Ravelry HERE and on Etsy HERE.
You know that I always LOVE to see all of your creative versions of my designs, so if you make Al Amal shawl, please post it on Facebook or Instagram and don't forget to tag me. The best way is to use #alamalshawl hash tag. I will post your beautiful pictures in my Insta stories and on Pinterest. Can't wait to see what you're up to! And which yarn you'll be using! I find the yarn choice so interesting!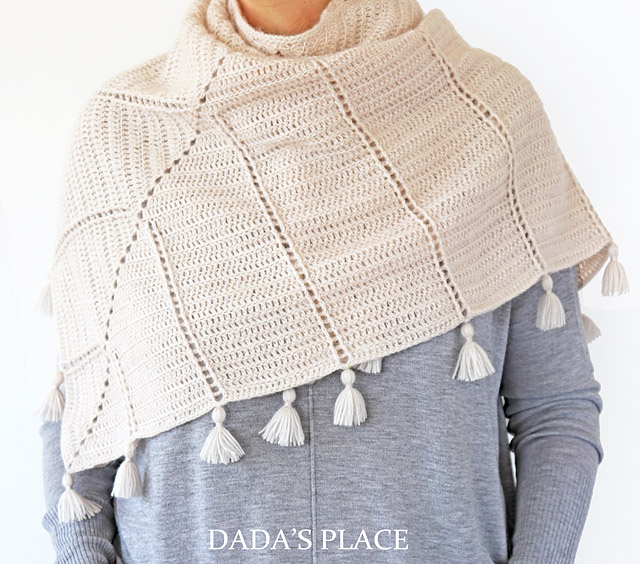 Click here to buy Al Amal Shawl pattern.